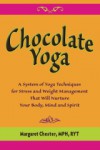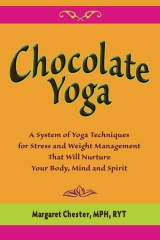 Publisher: self-published (2011)
Buy the book now at:

Amazon
"Take a few moments for yourself. Breathe."  How often have we heard this advice? But, how often do we follow these sage words? If you are like me, not very often—if at all.
So I began to read Chocolate Yoga expecting the 'same ol' same old.' How to Lose Weight without Dieting or Exercising—just breathe! Yea, right and eat lots of chocolate while you are at it.
However, I found that this book actually does take an entirely different approach to health improvement.  One that I, yes, even I, might incorporate into my unhealthy lifestyle. Margaret's words soothed and nurtured me as I read them. I found myself picking up the volume and rereading passages. Chocolate Yoga became like a supportive friend who is always there for you reminding you that you will be okay. Not only will you survive, you will thrive. Just remember to breathe.
Chocolate Yoga does not deny or belittle the stresses of our daily lives—especially with today's hectic lifestyle. My work requires me to be at a computer keyboard for eight-to-twelve hours a day. Deadlines are the mainstay of my business.  I had gained weight at unprecedented rate this past year. I haven't exercised in months. Oh, and did I mention the menopause thing?   You get the picture….
This slim tome is filled with inspiring passages and techniques of how we can withhold snippets of our own days—just for ourselves. Margaret names these blessed moments "chocolate." She uses chocolate as a metaphor for those moments in time that nourish the soul.  A few moments here, a few moments there when we are mindful of our breathing will make a difference. Exhale. Inhale. Breathe. These few moments a day of me nurturing me was making a difference.
As I remembered to breathe (with Margaret's gentle and nurturing nudging)using Chocolate Yoga's techniques,  I found myself making time—taking the time—even if it was just a few more moments for exploring another stress reducing yoga technique or a meditation that Chocolate Yoga shares with us.  No special equipment or clothes are needed. Just you. Just breathe.
"There are many paths up the mountain. Find what works for you," is a sample of the encouragement from Margaret Chester that you will find in Chocolate Yoga that will embolden you to begin your journey for  better health for your  body, mind and spirit—one step at a time.
Margaret Chester, author of Chocolate Yoga, is a MPH, RYT, certified yoga instructor. Her advice on how to get started on your journey to better health is: "Begin wherever you are."
[Reviewer's note: And, yes, I am losing weight the Chocolate Yoga way.]