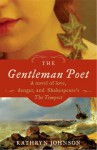 Publisher: William Morrow Paperbacks, a Harper Collins Imprint (2010)
Buy the book now at:

Amazon
Historical romances have never been my favorite genre, but I'm now rethinking my previous hesitations to indulge in such stories after reading the entertaining and dramatic tale of The Gentleman Poet.
In keeping with the seventeenth century recipes found in this book, the author mixes one maidservant heroine, Elizabeth, with a ship's cook, Thomas, who really doesn't know his herbs or spices, a mystery man whose first name is Will, his last name beginning with S (but, is he really Shakespeare?) and tosses them with another hundred-plus souls onto the good ship Sea Venture. Their destination? The Virginia colony in New Britannia. But a storm—we'll call it a tempest—sends them off course and onto a chain of uninhabited islands, perhaps the Bermudas.
Elizabeth knows how to cook and spices up her concoctions with local herbs, nuts, mushrooms, and the like, to the delight of the ship's captain. Friend Will encourages her growing relationship with Thomas, the cook, to protect her from the more unruly sailors. Thomas' courtship of the reluctant Elizabeth, who now prefers to be called Miranda, is described in language that felt delightfully Elizabethan to me.
But their much-delayed arrival in Virginia threatens their relationship and is presaged by Miranda's headaches. When tragedy strikes, our heroine experiences a true emotional tempest that carries the reader through to the end of the tale. In The Gentleman Poet, Kathryn Johnson poses an intriguing question: Did Shakespeare personally experience a shipwreck before he wrote The Tempest?
For those who have not ventured into Shakespeare's works, The Gentleman Poet, in this reviewers opinion, would make for a wonderful introduction to his literary feast. But whether or not you have or haven't partaken, this delightful and clever tale is enjoyable in its own right.