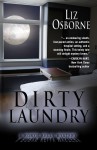 Buy the book now at:

Amazon
Nothing seems to go right on Friday the thirteenth for Robyn Kelly, Patient Relations manager at Madrona Bay Hospital, when she collects professional and personal crises like a movie star collects fans.
First, she is confronted by an injured homeless man who wanders into her office. Then nurses and a food service worker complain about a flasher patient, who turns up dead—murdered—when Robyn goes to his room to speak with him. On the personal front, her friend, Detective Pierce, injures his back hauling gardening supplies for her. And then her son announces he's going to Africa as a volunteer for a company Robyn has never heard of. Next her father, who considers himself invincible, has to be convinced to come to the hospital to be evaluated after he collapses at his ranch.
When Detective Pierce, now trussed up in traction, asks Robyn to quietly look into the details surrounding the murder of the patient, she begins to unearth unexpected issues related to the hospital. But, how can she investigate and get all her work done when the new hospital administrator insists Robyn take over for him in writing reports, presenting same, and participating in numerous meetings long on time-wasting? Meanwhile, situations on all fronts begin to escalate.
Robyn begins to suspect someone in the hospital has to be involved. Is it the unpleasant contract nurse whose behavior at Madrona Bay and other hospitals is less than stellar? A hospital staffer who has it in for Robyn? The homeless man whose hospital room begins to look more like a pleasant hotel suite each day that he remains there?
Can Robyn, with the help of Detective Pierce, still unable to walk, solve the case before his boss intends to charge her with the murder? Mystery buffs will thoroughly enjoy trying to identify the clues Robyn will need to put together before she gets herself killed by the real perpetrator.
Dirty Laundry by Liz Osborne was awarded the First Place Blue Ribbon for Cozy Mysteries in the Chanticleer Book Reviews Writing Competition 2012. This is the second novel in the Robyn Kelly Mystery series. Cozy mystery fans will find Robyn Kelly an engaging amateur sleuth fighting crime, and sometimes fighting for her life, in a deadly arena —the hospital where she works. Readers will never look at hospitals in the same way again after reading this well-researched classic cozy mystery novel.