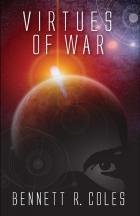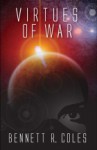 Chanticleer Book Reviews is honored to award the Cygnus Awards 1st Place for SciFi Military Novel Category  to Bennett R. Coles for Virtues of War.
Virtues of War by Bennett R. Coles
Virtues of War is now eligible to compete for the Cygnus Awards Overall 1st Place Blue Ribbon Award for Best Science Fiction & Fantasy works 2013.
The author, Bennett R. Coles, an officer with plus 15-years experience in the Canadian Navy, demonstrates a crisp writing style, an impressive knowledge of military tactics and techno jargon, and an imagination crossed with a study of physics that has produced believable weaponry and space travel of the future.
 

[Editor's Note: A SciFi thriller of physical and psychological combat, Virtues of War sends readers hurtling through space….This is no Star Trek mission of exploration….Drops from space through planetary atmosphere are vicarious thrill rides that get the reader's heart pumping, and the battle scenes are wrought with suspense. Virtues of War is the first of this SciFi thriller series from author Bennett R. Coles.]

We invite you to read Virtues of War's Chanticleer Book Review here.