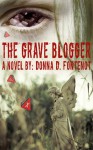 Publisher: DDtect Publishing (2012)
Buy the book now at:

Amazon
Author's Website
The Grave Blogger is a murder mystery that is not for the faint-hearted. The horrors of the torturings and killings detailed within its pages are definitely not for those who prefer their mysteries to be the cozy kind. This story, complete with a psychotic psychiatrist, takes place in the Deep South where a special kind of macabre is required to send chills up your spine.
The main character, Raya, is a true crime blogger who begins having flashbacks of a gruesome massacre–one that she witnessed as a young child while she remained, she now hopes and prays, hidden out of sight of the killer. The human monster who committed the revolting crimes twenty years ago in this small, seemingly idyllic, bayou town was never caught.
Enter the attractive Nick Simoneaux, a detective, who agrees to talk with Raya about the case. He harbors fears that his own father might have been involved as they begin to interview townspeople who were around when the first murders were perpetrated. It has been suspected that the killer was one of the town's own. No one is above suspicion.
Fontenot's style allows the reader to see through the eyes of the main characters, which is especially chilling from the killer's perspective. Readers' hearts will be racing as the story twists and turns and the suspense rapidly intensifies in this creepy "OMG-this could really happen" page-turner. Prepare to devour this fast-paced thriller in one sitting with the lights on and the doors locked.
The Grave Blogger was awarded 1st Place in the Murder/Suspense Category of the INDIE Awards, a division on the Chanticleer Blue Ribbon Awards 2013. Fontenot's first novel, The Grave Blogger, was selected for showcasing a new style in fiction writing for fans of modern crime stories.