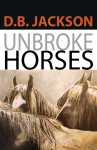 Publisher: Goldminds Publishing, L.L.C. (2012)
Buy the book now at:

Amazon
Author's Website
I read the early pages of D.B. Jackson's Unbroke Horses with a heavy heart. If anything could be considered even partial mitigation for the senseless evil, cruelty, and disregard for life displayed by Jackson's first-carved characters—Civil War deserters Brevet General Ike Smith and his dull-witted brother, Private Raymond Smith—one might seek an explanation in the gruesome experience of the war itself. Yet General Ike shows no inclination to change his postwar life. He seems to have no different thought for their future than living off the blood of others. After killing two farmers for fresh horses and an elderly man for his purse, the two take on a partner, a silent mulatto named Sandoval—thenceforth, Private Sandoval Smith.
The murderous violence reaches its apex when the monstrous Smiths kidnap the slightly built, fair-haired Matthew Stanford, whose preacher father they had senselessly murdered on the trail. Though only fourteen years old, Matthew grows up all too quickly in their cruel hands.
On one hand, this is a coming of age story of a boy, Matthew, who must survive by his wits when he is kidnapped by the three vicious men. It is also an epic account of the heroic battle waged by one of the trio's badly injured victims, J.D. Elder, who must fight a deadly wrenching conflict as he tries to rescue the boy from the sadistic threesome. It is a powerful, un-blinking telling of the hard-fought war between the bravery of J.D. Elder who refuses to give up against the cunning cruelty of the malevolent trio.
Caught up by his own part in the violence, Matthew is convinced that he has become as evil as his captors. Matthew's destructive attitude becomes his worst enemy. The question becomes, will he find a way back from the darkness that has taken over him or will he be forever doomed to the cold, ugly life of violence and killing?
While Jackson's excellent prose and poetic sketches help balance the harshness of the first part of his story, in the second part these are played to advantage in portraying the majestic beauty of Montana's mountains, the peace of a flowered meadow, the fury of the white-water streams, the camaraderie of cowboy life on a cattle ranch, the dangerous power of "unbroke horses," and the spiritual wisdom that an old Indian draws upon.
D. B. Jackson's Unbroke Horses has carefully chiseled characters and is written with unflinching clarity in short, powerful chapters dominated by taut dialogue and hard hitting action.  If you're a Cormac McCarthy fan who appreciates western literary thrillers, this masterfully written novel is a must-read.
Unbroke Horses by D. B. Jackson was awarded the 1st Place for Western Literary Category in the Laramie Awards 2013 for Western fiction, Pioneer, and Civil War fiction, a division of Chanticleer Blue Ribbon Writing Competitions.