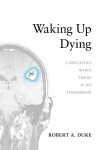 Publisher: Good Enough Publishing (2014)
Buy the book now at:

Amazon
Author's Website
An intensely personal and compelling narrative, Waking Up Dying offers an insider's perspective of the passage through cancer beginning with Duke's wife's diagnosis of stage IV glioblastoma brain cancer—typically a fatal condition.
Duke found the entire caregiving experience an agonizing, non-stop emotional rollercoaster: unbelievably frustrating, emotionally searing and increasingly chaotic.
The author's story of his dedicated and loving role as caregiver entails four phases of this tortuous journey: the couple's daily coping with the disease; the author's struggle through the health care system; the emotional reality of caregiving his dying wife; and the carefully documented material put forward as a basis for reforming the care system.
Duke took on the mantle of caregiver for his wife, Shearlean, with no practical experience, no history of what it is like to take care of a loved one with an acute health condition, or little knowledge of what was involved or to be expected from the U.S. healthcare system, nor from him as her advocate and caregiver.  Nevertheless, Duke immediately committed to her treatment and care. His goal appeared simple:
She would remain at home throughout the course of her illness and would die at home in her own bed with me beside her when it was time.
But life in the cancer ward was never about simple. While Shearlean confronted a regimen of powerful medications, facing the effects of radiation and chemotherapy, and piecing together a quality of life, Duke had his own challenges. Over an 18-month period, Duke chronicles his caregiver's routine:  managing medications, diet, medical bills, schedules, and fights with a never-ending bureaucracy that undermined his every effort to facilitate care. The physical, psychological and financial burdens that he shares with his readers are beyond comprehension.
Help and encouragement from friends and hired help weren't all the support the couple needed. Shearlean suffered the effects of aphasia, affecting the brain's language center, seriously affecting her academic livelihood as a journalist and teacher.  She believed that working with a speech therapist could help repair the damage of cancer and surgery, including a serious loss of skills in reading, writing, speaking, typing and listening.
There was nothing that the speech therapist could do for her. Her recommendation was only that Shearlean stay out of groups, where language would be more difficult to manage, even for a highly educated person. Over the course of her disease, Shearlean's language abilities remained, allowing her to continue teaching, although speaking intelligibly was highly dependent on her overall emotional condition and physical strength.
The author summarizes their life together with terminal cancer. He deemed it…
A death sentence—

[which] should have obliterated any semblance of normal life. There were days when this was true, like when Shearlean had great pain, but mostly it wasn't. A balm to our souls was how ordinary life remained… although things were hard, confusing and frustrating; we were also okay in many respects.

 The health care system was another, even more horrendous story, characterized by "bad medicine and underwhelming care" was what Duke said he experienced. Physicians could be inaccessible, indifferent and/or negligent; prescription snafus commonplace occurrences; medication lists impossible to decipher. And, he found insurance companies to be arrogant corporate entities, with a single goal: the bottom line of profit, regardless of patient need. Assertive caregivers felt that they were not welcome, even actively rebuffed, from participating in their loved one's care or for advocating for their patients' rights, Duke posits.

When pursuing essential help, Duke stated that he was often dismissed by doctors and nurses alike: "We have other patients."  How unbelievably heartless and inhumane.

Duke is adamant about  how medical personnel should interact with cancer patients:

"Reception and administration should be limited, efficient, personal, knowledgeable and considerate. They should never preempt the patient's tranquility, equilibrium, peace of mind or personhood."

The author could have written a simpler book, just the story of the final months of his 40-year love affair with Shearlean, his intelligent, accomplished wife. Instead, he took on far more: the intimacy of caregiving and the battle to understand and document why the system was failing him and his loved one.

Waking Up Dying is a blockbuster; a hit between the eyes. Duke challenges the reader to take those tortuous steps he has—feel his sorrow, elation and pain, walk his walk through the everyday rituals of care, and talk the talk of his analysis of much-needed system reform.

As a doctor of sociology, a professional caregiver consultant, educator and researcher of caregivers and their patients, I know of no other book on caregiving that details the precise obstacles that caregivers may encounter and must contend with because of a disorganized, broken system. This book is a must-read for caregivers. Be prepared for a mind-blowing, ultimately, illuminating and educational experience.