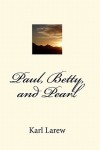 Publisher: CreateSpace (2009)
Buy the book now at:

Amazon
In the summer of 1941, a ship approaches Honolulu. Watching on deck is young Army Lt. Paul Van Vliet, a 1936 graduate of Cornell University who then joined the US Army Signal Corps, in which he was trained in radar and radio/wire communications.
WWII is well underway in Europe, and Japan has begun its imperial foraging for new territory in the Far East, but where will it stop? Could Japan envision an assault on US territories—or even the United States itself? Stepping up preparedness in Hawaii is underway.
Karl Larew's excellent work of historical fiction starts with Paul Van Vliet's introduction to life and military duty in Hawaii. Paul's sister Dottie, married to pineapple and sugar plantation owner Sam Lauterbaugh, is delighted to have her younger brother so close and soon invites him to a dinner party.
Paul is immediately attracted to another guest, Betty Lundstrom, wife of the often absent Navy Lt. Eric Lundstrom. The somewhat melancholy Betty is equally attracted to Paul. However, neither has any intention of a relationship beyond friendship based on a common interest in music and Paul's offer to give ukulele lessons to six-year-old Rosalie Lundstrom.
On the duty side, Paul meets his superior officers, Capt. Bascom, as loose with his language as he is with his liquor, and Col. Tothill, very much the diplomat. Paul begins his assigned work—an assessment of what the Army Signal Corps in Hawaii might need to support a war in the Pacific.
In the months to come, Paul becomes a frequent visitor at the Lundstrom home.  As Rosalie's lessons progress, however, so does the relationship between Paul and Betty.
Then, one Sunday morning—to be precise, Dec. 7, 1941—Paul awakes at about 0800 to the sounds of change.  Japan has just hit Pearl Harbor with a disastrous air strike. Soon, the U.S. is at war in both the Pacific and Europe.
Paul plays a major role in getting radio and wire communications established and coordinated and is promoted to Army Captain. Betty and Rosalie are evacuated—to spend the rest of the war with Betty's parents in Washington, D.C.
The story of the "Pearl Harbor surprise attack" and its aftermath is brought to life by its telling through conversation and letters, a technique Larew expertly uses to draw his readers back in time, right into history (and his story). Larew's personal experience (this book is dedicated to his father, Brigadier General Walter B. Larew
[1904-1973], U.S. Army Signal Corps) greatly enhances his description of Paul's work, as well as of military communications equipment and operations during WWII.
When Paul is ordered to Washington, he and Betty cannot resist seeing each other. They become convinced that they are destined to marry. But Paul is sent to Algiers in Sept. 1943, and then to London. Another promotion, to Major, accompanies his assignment to command one of the new JASCO (Joint Assault Signal Company) communications units, destined to land on Omaha Beach on D-Day. Paul's rising star is assured by his performance on the European front, including during the Battle of the Bulge.
As we all know, WWII ended in Europe in May 1945 and in the Pacific three months later. But as peace descends on the military fronts, new battles escalate in Washington—between Democrats and Republicans in Congress, as to how (and why?!) Japan was able to approach Pearl Harbor undetected; and between the Army and the Army Air Forces, as to whether the latter should break away to become the U.S. Air Force. Well, that's history—look it up.
On the family front, well, that's Karl Larew's story of Betty and Paul—read this fascinating and enjoyable book. And don't stop with "Paul, Betty, and Pearl." It's just the first of three.