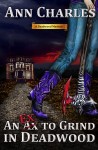 Publisher: Ann Charles (2014)
Buy the book now at:

Amazon
Author's Website
The Deadwood Mysteries by Ann Charles is a wickedly funny paranormal mystery romance series that takes place in its namesake city in South Dakota.
Meet Violet "Spooky" Parker, a sassy single-mom real estate agent who is earning a reputation for selling haunted houses and finding dead bodies. And, now her agency's boss is advertising that "she'll show you a magic place that you'll love…" on an interstate billboard. He also has her lined up to appear in a reality TV show featuring ghosts.
But, Vi has more than her reputation to worry about when she gets a unsettling call from a mysterious women insisting that they meet immediately. When she and her sidekick Harvey arrive at the appointed place, all they find are ticking clocks, a shrunken head, and yet another dead body.
Vi swears not to get involved especially after she is warned to keep out of the way by the police detectives on the case. She especially swears off the case when her ex decides to make a reappearance in her life. However, when she finds evidence that links her young son to the victim, all bets are off now that her child maybe in mortal danger.
The Deadwood Mysteries offer a welcomed new twist for cozy mystery lovers! Fresh writing, lovable quirky characters, a good dose of randiness, peculiar situations (I have no idea how Ann Charles comes up with this stuff, but it makes for an entertaining read), and clever surprises at every twist and turn. An Ex to Grind keeps the laughs coming or the suspense building. Get ready for another hilarious and spooky suspenseful read from Ann Charles.
[Reviewer's Note: I LOVE the ending.]