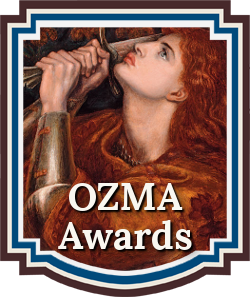 October is upon us bringing tricks, treats, and fanciful delights in the form of submissions to the brand new OZMA Awards for Fantasy Fiction and the long running Paranormal Awards for Supernatural Fiction. We can't wait to see what kind of submissions we get this year. Get your manuscripts ready! The deadline is October 31.
OZMA – Something new for fantasy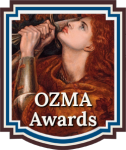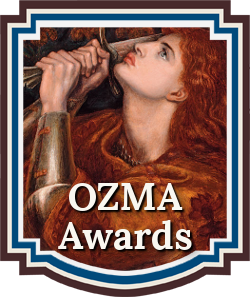 Our Cygnus Awards have been home to both Science Fiction and Fantasy since the Chanticleer International Writing Competitions began, but the cup is overflowing and a new
cauldron
 (it's October after all) was needed to hold the fantasy entries. The OZMA Awards were the perfect answer. A lot of thought went into creating this new home for our fantasy entries, choosing the name OZMA as a nod to L. Frank Baum's Princess Ozma from the Oz series and then a painting of Joan of Arc by Dante Rossetti (a Chanticleer favorite!) as the image to represent the awards. L. Frank Baum, a feminist in his time, created in Ozma a great ruler, both protector and pacifist, who eliminated poverty and need in her realm. And Joan of Arc, as we all know overcame impossible odds to become a warrior and a leader in a time when such roles were reserved for men. We wanted do our bit to encourage and foster a place for strong female characters in fantasy fiction.
Paranormal – A haunting history
The Paranormal Awards are an old soul with a lot of spirit and winners going back to our beginning.
The Paranormal Awards History of Winners:
2015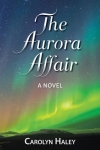 The Aurora Affair by Carolyn Haley won the Paranormal Award category for "Supernatural Powers" and then went on to take home the 2015 Paranormal Grand Prize.
"Supermodel-turned-artist Madeline LaRue has been suppressing her psychic gifts all her life. Now she's stranded in a remote musicians' enclave, called in by her twin sister to explain away some spooky goings-on that are more than merely spooky. Devout skeptic or not, Madeline has walked into a cosmic storm where, along with her sister, an ex-lover, and a charismatic New Age musician, she is targeted by forces she has always denied, and that only her artist's eye can discern."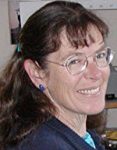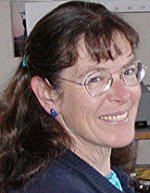 Carolyn Haley is a writer, editor, and reviewer living in rural Vermont. Through her business, DocuMania, she writes a mix of magazine articles and catalogue copy, along with her own books. She also helps other authors with diverse projects through editing, proofreading, production, and education. When not working, Carolyn enjoys several outdoor pursuits—gardening, paddling, walking, riding, birdwatching—along with autosports and spectating the arts. Her enduring passion, however, is books.
2014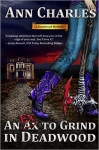 An Ex to Grind by Ann Charles won the Paranormal Award category for "Blended Genre" and then went on to take home the 2014 Paranormal Grand Prize.
"The Deadwood Mysteries offer a welcomed new twist for cozy mystery lovers! Fresh writing, lovable quirky characters, a good dose of randiness, peculiar situations…and clever surprises at every twist and turn. An Ex to Grind keeps the laughs coming or the suspense building. Get ready for another hilarious and spooky suspenseful read from Ann Charles."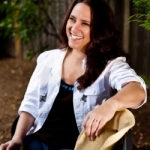 Ann Charles is a USA Today Best-Selling author who writes award-winning mysteries that are splashed with humor, romance, and whatever else sounds fun.She is currently toiling away on her next book, wishing she was on a Mexican beach with an ice-cold Corona in one hand and her Kindle in the other. When she is not dabbling in fiction, she is arm wrestling with her two kids, attempting to seduce her husband, and arguing with her sassy cat.

2013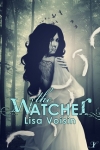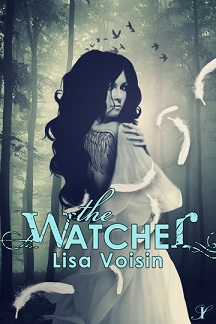 The Watcher by Lisa Voisin won the Paranormal Award category for "Angels & Demons" and then went on to take home the 2013 Paranormal Grand Prize.
"Voisin transports us visually into Mia's world with rich details, from places as mundane as a wall locker in a school corridor, to a thrilling winged flight high above the city. We ache with Mia for Michael's touch when he is near, and feel Michael's pain for resisting…The Watcher will keep you guessing, and feeling, and leave you with great hope."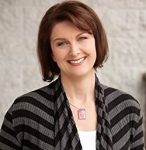 A Canadian-born author, Lisa Voisin spent her childhood daydreaming and making up stories, but it was her love of reading and writing in her teens that drew her to Young Adult fiction. As someone who believes in giving back, she leads the Young Writer's Club sponsored by the Lynn Valley Literary Society every month. In her spare time, she teaches meditation. So when she's not writing, you'll find her meditating or hiking in the mountains to counter the side effects of drinking too much coffee. She lives in Vancouver, B.C. with her fiancé and their two cats.

2012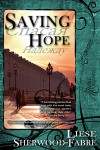 Sacred Fires by Catherine Greenfeder, winner of the 2012 Romantic Paranormal Award. 
"Casey is a journalist who is trying to prove her reporting chops when she joins up with Miguel, a U.S. Customs agent whose mission is to solve the mystery of missing ancient artifacts and recent bizarre cult murders. Their leads take them to Mexico City and the lush, sultry tropics of Acapulco…Sacred Fires is a well written and crafted romantic paranormal novel with elements of intrigue and suspense along with a story set in a lush locale with mystic Aztec undercurrents. Greenfeder has succeeded in writing a fast-paced romantic suspense novel that is refreshingly different."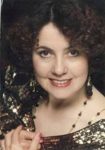 Born and raised in New York City, the American West and the pioneer days has been a fascination for Catherine Greenfeder since her fifth grade teacher created a "pioneer day" complete with square dancing and venison stew.A fan of romance fiction since high school, Catherine decided to write her first romance novel after careers in public relations and retail advertising. Trips to Oklahoma to visit family sparked Catherine's interest in the plight of Native Americans and those early settlers in the frontier states. Wildflowers is the product of years of research and writing. Catherine is a language arts teacher and a romance novelist in New Jersey.
All you have to do is to enter your manuscript or published novel in either of these terrific contests!
The October 31th deadline for submissions is going to be here before you know it. Don't miss this opportunity to earn distinction for your novel. Enter our contests today!
All category winners have the opportunity to attend our spring Award Gala ceremony that takes place during the 2017 Chanticleer Authors Conference where they will be whisked up on stage to receive their ribbon in a magical evening including dinner, networking opportunities, and celebrations–not to mention free reviews, and the chance to win the grand prizes and cash!
What are the OZMA and Paranormal Awards?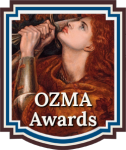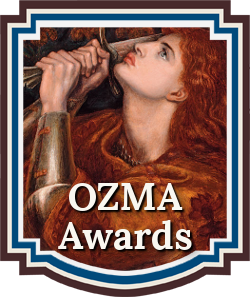 Our OZMA Awards are the Chanticleer Reviews search for the best Fantasy books of 2016!
Chanticleer Book Reviews is looking for the best books featuring magic, the supernatural, imaginary worlds, fantastical creatures, legendary beasts, mythical beings, or inventions of fancy that author imaginations dream up without a basis in science as we know it. Epic Fantasy, High Fantasy, Sword and Sorcery, Dragons, Unicorns, Steampunk, Dieselpunk, Gaslight Fantasy, Urban Fantasy, or other out of this world fiction, we will put them to the test and choose the best among them in the OZMA Awards for Fantasy Fiction International Writing Competition.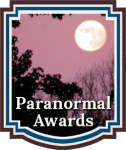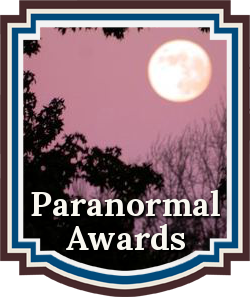 Our Paranormal Awards are the Chanticleer Reviews search for the best Supernatural Fiction books of 2016!
Chanticleer Book Reviews is looking for the best books featuring magic, the supernatural, weird other worldly stories, super humans, magical beings and supernatural entities, vampires, werewolves, angels, demons, Fairy, Magical systems and elements, we will put them to the test and choose the best among them.
Our Chanticleer Review Writing Contests feature more than $30,000.00 worth of cash and prizes each year! 
~$1,000 Overall Grand Prize Winner
~$2,800 in Genre Grand Prizes
~$28,980 in reviews, prizes, and promotional opportunities awarded to Category Winners
Don't delay. Enter today!