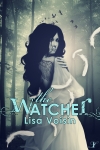 Publisher: Inkspell Publishing (2013)
Buy the book now at:

Amazon
Author's Website
Mia Crawford is a vibrant, outgoing high school student in West Seattle with a close circle of friends. She shares most things in her life with them, but not the strange occurrences that keep her guessing her own sanity: cloudy dog-like creatures with menacing red eyes that chase her, voices cloaked in static, flickering lights, and even real people no one else sees. Mia's family isn't around much – Mom works a lot, her dad has a different life out of state, and her brother is away at college. She feels everything with deep intensity, as the smallest events trigger emotional responses landing on both ends of the spectrum.
Two new boys arrive at her high school this year: the first is mysterious Michael, who experienced death after an accident but came back. He is beautiful, strong, and seems to show an interest in Mia, always showing up at just the right time. She quickly develops strong affections for him, but he does not reciprocate her feelings. Instead, he pushes her away, disappointing and confounding her, giving rise to her insecurities.
Damiel, the other new boy, shows up dashing and debonair on his vintage motorcycle. All the girls swoon under his attention, and he pursues Mia persistently. Michael warns her to stay away from him, and she really doesn't like Damiel. However, she is inexplicably drawn to him, in spite of being in love with Michael.
Mia loves the study of ancient civilizations and literature. She lives out her painful crush through a classroom reading of Shakespeare's Hamlet. Sometimes she has visions of another world, seeing at times a meadow, a loom, and large birds circling in a fight to the death. She also knows she has some kind of connection with Michael, and that he and Damiel have a history. But nothing could prepare her for knowing the truth of that history, and her role in it.
Things become heated when Michael and Damiel confront each other in an other-worldly fight over Mia. When she finally discovers the truth, it sends her on a soul-searching journey of love and redemption, and into a supernatural battle of good and evil, involving angels and demons.
Voisin transports us visually into Mia's world with rich details, from places as mundane as a wall locker in a school corridor, to a thrilling winged flight high above the city. We ache with Mia for Michael's touch when he is near, and feel Michael's pain for resisting.
The mundanity of high school life and petty spats gives way to an other-worldly realm with life and death significance. Mia and Michael have a tragic past that occurred before recorded history, resulting in Mia's early death and Michael's fall from his fold into hell and guilt-ridden remorse. Only Mia's strength can save them in this lifetime; is she up to the task?
The author draws from principles of many different sources, from the Bible and the Quran to Tarot cards, giving none any greater importance than the others, and without judgment.  The Watcher will keep you guessing, and feeling, and leave you with great hope.
 The Watcher by Lisa Voisin was awarded the Grand Prize Award for Paranormal Novels, a division of Chanticleer Reviews Novel Competitions.