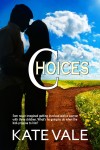 Publisher: CreateSpace Independent Publishing Platform
Buy the book now at:

Amazon
Author's Website
Choices by Kate Vale is a modern day romance story set in small town USA about a seemingly perfect family that ends up experiencing the harder side of life. The story is heart wrenching, but it is ultimately inspiring even though it deals with divorce, infidelity, and relationships. This novel uniquely shows the gritty and often ignored side of what families with kids go through when a marriage breaks apart.
Melanie, the main character, finds herself in a position that no mother or wife ever expects or wants: her husband has just walked out on their family and she is left alone to pick up the pieces. She finds herself having to support her three children by herself and her kids are blaming her for their dad's disappearance from their lives.
The reader is dropped right into the heart of the story from the very beginning when Melanie is confronted by her estranged husband telling her he wants "out" of their marriage. He declares couples counseling was simply a waste of his time and he wants the marriage to be over so he can move on with his life. Self-doubt creeps through Melanie's mind and she wonders why her husband would want to leave after sixteen years of a seemingly good marriage and what she could have done differently.
It's not long after her husband deserts her and their children that she re-meets Sam. Sam, the detective, the single detective who is smitten with Melanie from the get-go. He immediately takes to her kids and wonders what it would be like to have the full life of a family, house and all the trimmings. He carefully pursues Melanie in hopes of a life with her and her children.
But Sam and Melanie aren't prepared for the troubled times ahead of them. Melanie finds herself with two angry and troubled teens, both acting out and getting themselves into some frightening situations. Sam finds work colliding with his personal life and his attempts to court Melanie. And Melanie's ex-husband has become jealous and angry at the thought of another man stepping into his role as husband and father.
Can Sam, Melanie, and her children be there for each other and help each other when tragedy strikes and life gets even harder?
Vale's Choices sincerely explores the pain and anger that can come with a messy divorce in a realistic and honest way. This is a novel that everyone who has experienced the sting of divorce and troubled teens can relate to.
Choices by Kate Vale is a sweet romance novel with a truly heart-warming ending. Each character grows and changes from beginning to end in this novel, making it not only a great read, but an inspiring one as well. Vale wrote a page turning story that I wouldn't hesitate to read again!
Choices by Kate Vale received the Chatelaine Grand Prize Award 2013 for Romantic Fiction, a division of Chanticleer Blue Ribbon Writing Competitions.