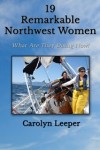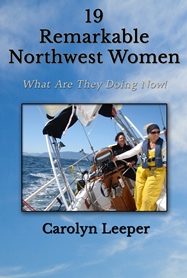 Publisher: Amazon Digital Services, Inc. (2014)
Buy the book now at:

Amazon
Author's Website
Carolyn Leeper's newest work, 19 Remarkable Northwest Women, is an inspiring and motivational compilation of profiles of 19 women she has met through the years. These women have led very different lives, but they all have one thing in common: the ability to "evoke change through choice" (as Billie Miller states in the foreword).
The book is composed of short vignettes, each profiling a different northwest woman who Mrs. Leeper finds inspirational. These women are very different; they range from entrepreneurs, to writers, private investigators, captains, CEOs and more.
Each profile covers the featured woman's career history, interests, what advice she would offer to other women, and ends with a short horoscope reading. The advice offered throughout the book is consistently uplifting and motivating, with an emphasis on action, involvement, and having the tenacity to grab opportunities as they arise.
The book features women such as Robin Akkermann, Pamela Beason, Kathryn Brown, Deborah McFarlane, and Irene Roberts. Many of the women featured have held multiple and varied careers. All of the women have created change and success in their lives through conscious decision making, often at very difficult times. These are women who are lifelong explorers and learners; women who are actively involved in life. They are the kind of women that we interact with on a daily basis. These are not extreme sports athletes, or corporate moguls, or women who have survived devastating situations. They are women with whom most of us can relate to and that is the beauty of Mrs. Leeper's slim volume. These are ordinary women who have had positive impact on many lives–especially in the Pacific Northwest. Mrs. Leeper's passes their advice on to young women to follow their passions, never give up, and help each other along the way.
19 Remarkable Northwest Women focuses on the work/life balance that many women feel they struggle with. Mrs. Leeper lets the reader know that women really can have it all…with a support network in place, the encouragement of other women, and the gumption to go out there and do it. As Mrs. Leeper states, "These women are living the lives they want…not just doing what others expect of them."
[Editor's Note: The only item that I would add to 19 Remarkable Northwest Women is that Carolyn Leeper should round out the number to 20 remarkable northwest women. Mrs. Leeper, author and interviewer of this work is a published author, retired travel agent, an emeritus board member of Whatcom Writers and Publishers, a longstanding member of Washington Business and Professional Women organization, and an active volunteer with many non-profits.]