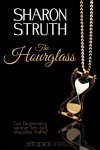 Buy the book now at:

Amazon
Author's Website
This debut novel could be said to be a story within a story: the male protagonist, CJ Morrison, is a best-selling author who pens a dark thriller called The Hourglass shortly after his wife's death in a car accident that leaves CJ guilt-ridden, for reasons that are unclear. CJ hires Brenda McAllister, a relationship and sex counselor and self-help author as a consultant for his manuscript on the advice of his publisher, to help him move forward with the main character. The two instantly share a mutual, and in CJ's case unwanted, attraction. The author, Sharon Struth,  has a knack for creating a palpable attraction between the two.
When Brenda evaluates CJ's other bestsellers, she realizes that the fictional character in CJ's new story may reflect his personal demons. Brenda has her own baggage as well, not least of which is the recent death of her husband of 25 years, whose suicide is viewed by nearly everyone as proof that he was guilty of fraud at the Stamford, CT office of Global Business Systems. Brenda doesn't believe it, but worries that the almost-violation of her marriage vows with her late husband's best friend and colleague, Luc, might be why her husband took his own life.
The main characters each possess a set of all-too-human flaws as well as other romantic interests which complicate their reactions to the attraction each feels during their work sessions, but each of them must conquer their personal demons before they can act on said attraction.
Their repartee at each subsequent meeting is well-written and accurately reflects each of their conflicting push-pull emotions. These characters are in the midpoint of their lives, but how they react to each other, along with their respective sexual tension reads well without requiring that the author haul us into a bedroom with the characters. The motivation that keeps these characters working with each other is skillfully woven around Brenda's need to clear her husband's name even as Luc seeks to "help" her. Struth deftly adds some twists and turns to this contemporary romance as she ramps up the intrigue and the chemistry as Brenda discovers that her late husband's work may not have been what she was led to believe.
Struth has added touches of humor and quick-witted dialogue that makes for an entertaining read, while she presents very real-life situations and human frailties within this well written story.  The Hourglass will leave you thinking about it long after reading the last page. Throughout this suspenseful romance, the author provides clues that, by themselves, are easily missed, but which, when added together, resemble the gathering sands in an hourglass. We look forward to reading more of Sharon Struth's contemporary women's fiction.
The Hourglass by Sharon Struth is a Chatelaine First in Category award winner for Romantic Women's Fiction.