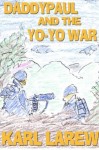 Publisher: CreateSpace Independent Publishing Platform
Buy the book now at:

Amazon
It is June 1946. Major Paul Van Vliet turns his 1940 maroon Buick Super sedan into Gunter Army Air Field grounds, just outside Montgomery, Alabama, where he is to teach at the AAF Communications Division. He is welcomed by his superior, Lieutenant Colonel Matt Wentz, who takes him to see the house Paul will occupy with his new bride, Betty, and stepdaughter, 11-year-old Rosalie.
Thus, Karl Larew introduces Part II of his trilogy, Paul's Three Wars. In this second installment, Daddypaul and the Yo-Yo War, Larew documents the life of Paul over almost a decade, as he begins a new stage of his life.
Paul eagerly meets the train bringing Betty and Rosalie to their new home. There is an abundance of love in this new family; Betty and Paul exchange a romantic hello, and Rosie excitedly greets her "Daddypaul!" Not long after the family is settled in, young Rosie is inspired by a concert violinist's performance of Robert Schumann's "Violin Concerto in D Minor" to begin violin lessons.  But the thrill of learning to play under the tutelage of a Hungarian violinist soon sours. Pre-teen Rosalie must somehow find the courage to tell her family that her violin teacher has molested her. When she does, unforeseen consequences arise and Rosalie is distraught.
A year later life is again changing for Paul and his family as they move to Falls Church, Virginia so Paul can work at the Pentagon. They also soon welcome a son, Daniel Evan Van Vliet. A healthy mother and son come home from Walter Reed Hospital, but Betty, usually so resilient, falls into post-partum depression. Rosalie, wise beyond her years, one day says, "Daddypaul, I think it's time Mom talked to a psychiatrist."
Soon, it's Paul's turn to worry as a creeping fear settles into him that his career might have been jeopardized by the self-serving, gossipy tongue of his former second in command, Major Don Goffe. The worry is soon relieved, but this is not to be the last time that Major Don Goffe appears in Paul's life.
In spring 1949, the newly promoted Lieutenant Colonel Van Vliet is assigned to temporary duty in South Korea to assess the ROK army's communication needs in the "U.N. Police Action" against North Korea and the capability of the U.S. Army Signal Corps to meet them.  He returns home dismayed by the paucity of U.S. communication equipment and personnel.
North Korean troops cross the 38th Parallel in the spring of 1950 and the "Police Action" intensifies. President Truman orders General MacArthur to send in 8th Army forces from Tokyo.  The Van Vliets' family life is interrupted when Paul is permanently assigned to the Signal Corps in Korea.
Paul's job is to "make sense out of the VHF relay radio system…banking radio waves off mountains and bending them around hilltops." But he finds himself in actual combat at one relay station, attacked by North Koreans in the middle of the night. "Aim low, squeeze slow," he instructs a young signalman-turned-rifleman. After an injury involving a mine, Paul is sent to Tokyo to recover, and once he has he is assigned to a desk job in Tokyo, only to find that his nemesis, Major Goffe, is again his second in command. Goffe again seeks to jeopardize Paul's career. Paul learns from a retired Col. Mummert, now working for the Senate Armed Services Committee investigating how Senator Joseph McCarthy is getting military information to support his anti-communist witch hunt, that Goffe is one of McCarthy's snitches.
Larew expertly blends fact with fiction, using "letters" between Betty and Paul to keep us abreast of personal events in Falls Church and Pusan, Korea. The well informed and well written narration of historical events and figures blends well with the fictional accounts of Paul's activity in the Signal Corps. The ROK army's communication needs in the "U.N. Police Action" against North Korea and the capability of the U.S. Army Signal Corps to meet them.
What a "yo-yo" war!—UN troops pushed south to the Pusan perimeter, North Koreans routed and driven north almost to the Chinese border, UN forces chased south again, North Korean/Chinese troops forced north beyond the 38th Parallel. The outspoken General MacArthur's 52-year career ends when he is relieved of his duties by President Truman, and General Ridgway is commanding the 8th Army when Paul leaves for home in mid-summer 1951, returning to the Pentagon as Executive Officer of the Army Communications Service Division.
Meanwhile, in Falls Church, Rosalie, a high school junior, beautiful with satiny red hair, continues her meteoric rise as a violinist, though her undivided attention to music leads to a slightly problematic social life. Betty has a full schedule of piano students and still makes time for Army wives activities and Danny is thrilled to have his dad home.
Military and political history buffs, particularly military family members, and even romance lovers will find Karl Larew's novels engaging reads. Karl Larew introduces Part II of his trilogy, Paul's Three Wars, which follows "Paul, Betty, and Pearl," a historical novel set in the WWII era, beginning at Pearl Harbor. Larew's personal experience, as the son of Brigadier General Walter B. Larew (1904-1973), greatly enhances the accuracy of his description of military life as well as the military and political history of WWII and beyond in this American family saga.