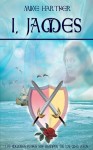 Publisher: Eternity4Popsicle Publishing (2014)
Buy the book now at:

Amazon
Author's Website
James Crofter is born in Spain in the early hours of September 21, 1613. Rosalind Caufield is born the same day and same time in London. Their lives, families, and fortunes will forever be intertwined.
I, James, is the second book in Mike Hartner's historical young adult saga, a series designed to flow from the 16th century to the present time. It is a story of adventure, hardships, survival, heroics, and sweet romance.
When Rosalind is just 10 years old, she and her mother are cast out of the family home. Her grandparents have died and her father is away at sea. Rosalind can't understand how family can turn against family. She and her mother are shipped to Sarat, India, presumably to be met by her father.  Her mother dies and her father cannot be found. Rosalind, now alone in a strange city, is grabbed and trained, readied to be sold as a slave. Instead, her trainer decides to befriend her; she is put on a trade ship where she has some protection; she dresses as a boy and calls herself Sal. She becomes a sailor, a cook, a fighter, growing from child to young woman.
James is a child of privilege, a prince, the second son of Walter, King of Northern Spain. On his eleventh birthday, James is snatched from his family, transported to Africa, and sold into slavery. James never gives up on the thought of taking revenge the man who took him from his home and made him a slave.
Hartner takes us on the journey of James and Rosalind who are from these very different walks of life at the time of who rules the sea rules the world. Their lives and stories become entwined as they struggle with pirates, slaves and slavers, cruel masters, and just down-right evil bad guys as they each find their way with the help of compassionate friends, determination, hard work, and quick thinking. It is a book that will transport you back to the time of your childhood daydreams of faraway places and distant times.
I, James is a captivating tale of survival, of helping others, of not letting others discourage you, and of never giving up hope. Fascinating historical details are woven throughout this classic coming-of-age story adding to its intrigue. Readers will find themselves rooting for Hartner's feisty and resourceful protagonists. However, I, James, is told in a matter-of-fact tone throughout; the harshness and cruelty of the time period comes through in all its bleakness. During James' time working on the tobacco plantation, he is whipped many times. James is reminded of his father's stories but with fuller understanding of the hardships his father actually endured. As a small boy, James enjoyed his father's stories of adventure, never expecting to experience such things for himself.
 I, James may be categorized as a middle school – young adult novel, but if you enjoy classic adventure stories, it will draw you in, no matter your age. You'll also want to read the first volume in the series, I, Walter, and watch for upcoming books with new characters and new adventures in Mike Hartner's Eternity series. Highly recommended.