Listen to or download this article: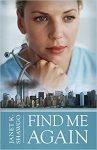 Publisher: Two Harbors Press (2014)
Buy the book now at:

Bookchain

Amazon
Author's Website
Can true love conquer death? What happens when those that die have unfinished business? Is it possible for those that leave to help those still here with their unsettled endings?   Find Me Again is a story about love that dares to do just that.
Find Me Again begins just over a year before 9/11; many of the mysteries in the story revolve in some way around that infamous day. Much of the story is not about 9/11, but a key player in the story proves to be tightly involved in the events of that day. The conspiracy theory and mysterious side to this story help make it a great read, but what intrigues me the most is how intricate the people are woven together in this story; most of them oblivious to these associations until well into it.
Taylor comes home for his Aunt Beatrice's funeral with a surprise that his uncle who had also passed had willed to him his controlling portion of the family business. The inheritance comes with strings attached, however. Taylor is to settle some unfinished business for his uncle; his request was to research his family history and seek out his ancestor's (Samuel White) true love, a nurse from the Bowen family.
Jace is the most recent relative that has chosen to follow in the footsteps of her ancestors of old.  She is a holistic nurse recovering from a bad divorce that left her broke. But Jace was also gifted by her mother's family history that leaves her to believe that she must help settle the dead as well. Her research leads her to discover that the Bowen and White families are linked. Jace feels a strong obligation to seek the answers to several questions that surface in relation to her mission.
While Taylor and Jace appear to be the key players in this story, they are far from the only ones. All of the characters developed in this story are intriguing and leave you wanting to know more of their story. From Jace's cousin Zack with intelligence enough to get her into a high level government job, but country enough to allow her to fly through desert training and surpass expectations of her. Zach also has the unique gift of mind reading and she may also be an empath. Zack alone adds an amazing character to the story and she is just one of many.
Find Me Again is a mystery, conspiracy theory and an amazing love story that crosses generations—all combined into one amazing read. It leaves you quickly turning the page wondering how each person really plays out in the story, and an ending that tells you this story is far from over. An awesome and entertaining story; this reviewer highly recommends it and is looking forward to reading the first two books in this fascinating and well-researched trilogy from Janet K. Shawgo: Look for Me and Wait for Me.