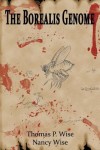 Publisher: Author House (2013)
Buy the book now at:

Amazon

kobo
Author's Website
When technology, genetics, biology, and the quest for eternal life combine, what could possibly go wrong? Quite a bit, it turns out. The Borealis Genome begins as a smooth, ambling tale told through the eyes of some of its characters in vivid detail. Scenes are intricately painted in warm, pacifying colors. However, these scenes are juxtaposed with psychological disconcerting subject matter along with some gruesome and disturbing events. With each turn of the page of this YA/New Adult thriller, the ticking clock speeds up.
Brutally violent murders are plaguing Philadelphia, perpetrated in zombie-like fashion, mostly by adolescents. We relive a young boy's torture by two of his own family members before he's left in a pool to drown.  We see the world through the eyes of an observant 12-year-old boy, Tommy, trying to be tough enough to withstand the rough 'play' of the boys he is hanging with. We, the readers, wonder if he'll meet a similar fate.
If you listen to the news reports, all these deadly incidents are isolated: There is no zombie-virus; there are no zombies. Meanwhile, Tim has cause to think otherwise. The pursuit of some connection to the seemingly random killings across the Northeast becomes his obsession, involving his fiancée and his best friend via cryptic text messages and secret meetings. Will they find something to link these events together? And if they do, will they be able to do anything about it?
Dr. Denat is the director of computing sciences at a facility researching cures for Alzheimer's disease and he is Tommy's father. Dr. Denat is the mastermind behind an artificially intelligent program that can restore memory function by transplanting those memories to a new "host." In this way, the company, named Environmental Consciousness Ltd. (E.C.), can sell the means of extending one's life through an engineered person made from your own DNA and memories, albeit edited – think Eternal Sunshine of the Spotless Mind – but even better. It's similar in concept to Being John Malkovich – except that you have your own "John Malkovich" after you die.
Tommy goes happily along with his dad to work, as he has before, and we can see his pride in his father as they enter the research facility. We see the center through Tommy's twelve-year-old perspective as he fluctuates between being awed by the glass and architecture and his father's position and then becoming bored when he is reminded by his father to sit quietly while in his office.
The ancient Mr. Oldham, the owner of the company drops by and invites Tommy to view one of his experiments. Tommy obediently follows him to his lab where he views Dr. Oldham's experiment, at first, with resignation, then curiosity, and then disgust. Dr. Oldham is pleased with Tommy's inquisitiveness and patience. Tommy is sweetly naive, but intimidated in the research center's sterile and laboratory surroundings. However, apprehensive begins to set in as he begins to comprehend what he was just shown by the ancient Dr. Oldham.
We wish Tommy would have more apprehension—much, much, more.
From here the story takes off at breakneck speed as we learn about the Dr. Oldham's secretly intended purpose for the research. And he believes Tommy might just be the missing element that he has been searching for to achieve his own personal goals for his research.
The reader is given glimpses of E.C.'s rosy marketing efforts to potential elderly clientele Jurassic Park-style – from a moving tram behind a protective barrier. What they don't see is that sometimes biology throws in a monkey wrench by mutating its viruses, computer programs always have bugs, and human error, and other unpredictable elements come into play. E.C.'s artificially intelligent program, like HAL, becomes a self-protective force corrupted by the uploaded consciousness of many minds. Tim's friends end up fighting not only for their own lives, but for the future of humanity.
The Borealis Genome takes on a unique perspective of the zombie vs. humans' tale. For it is a tale of the ancient quest for eternal life, but one using the latest in high-tech, state-of-the-art scientific research that creates its own type of Black Death.
Tom and Nancy Wise's children contributed to the book's storyline; they provided the clever cover art and, undoubtedly, to the text messaging most adults would find undecipherable but adds credence to the story to YA and New Adult readers. Adults who also enjoy a good zombie story with a twist (that's a little gory, but also intellectual) will enjoy this YA thriller. It might, just might infect your own thoughts and memories more than you might realize….
 The Borealis Genome won  the Grand Prize Award in the Dante Rossetti Writing Competition for YA and New Adult Fiction, a division of Chanticleer Blue Ribbon International Writing Competitions.