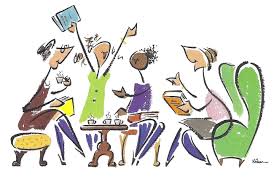 Welcome to the Book Clubs and Readers Community News
This is where special news just for Book Clubs and Readers will be featured.
Specials for Book Clubs: 
Winning ten FREE copies of an Chanticleer award winning title
Access CBR titles that have lists of thought provoking questions tailored just for book club discussions–FREE
Arranging for a Chanticleer author to attend and discuss her book at your book club's meeting (find out if an author is available in your club's location)
Entering to win special goodies or books or give-aways for your book club
Asking authors questions about their books and the craft of writing through online chatrooms
Accessing special offers just for Book Clubs from Chanticleer Community Authors
If you are representing a Book Club and would like more information, please email: BookClubInfo@ChantiReviews.com.
Specials for Readers such as:
Author promotional contests that give away prizes
Find out if your favorite CBR author is presenting at bookstore near you
Book Sales & Freebies & Give-aways from Chanticleer Authors
Participate in Fun Social Media Events
Join Chanticleer's Online International Book Club that will feature the Chanticleer Grand Prize Winning Titles
Become a Beta Reader for one of your favorite Chanticleer Community Authors
Please email Rainey Jordan to sign up at RJordan@ChantiReviews.com
Author Information about participating in Book Clubs Specials
If you have received a four or five star review by Chanticleer Book Reviews or if you have been awarded a FIRST in Category or a CBR Genre Grand Prize, you are eligible to have these works participate in the Book Club Community News offerings. Please email: KBrown@ChantiReviews.com
Author Information about participating in Reader Specials
All works reviewed by Chanticleer or that have been entered into a Chanticleer Writing Contest, are eligible for consideration to participate in the CBR Reader Specials. Book sales, freebies, promotional goodies, author signings, and social media events are examples of Reader Specials. Authors/publishers may submit listings to: RJordan@ChantiReviews.com
More Author Info
Also, please email us about your book deals, book sales, book signings, and book promotions that pertain to your submissions. We will try our best to publish them in the Book Club and Readers Community News column and in our socia media postings.*
*Fine Print: CBR retains the right to decide which submissions, offerings, and solicitations to post to our website.