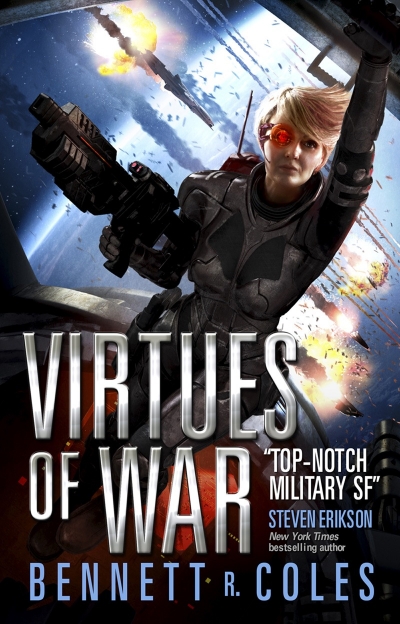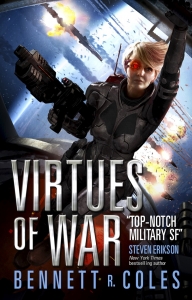 Chanticleer Book Reviews is honored and proud to announce that Bennett R. Coles, CYGNUS Awards 2013 Grand Prize Winner, was contracted by Titan Books for a three book deal for his Astral Saga series.
Titan Books  is known for its Doctor Who series, Gregory Benford and Larry Niven collections of Ringworld, Timescape, Shipstar fame, George R.R. Martins & Hugh Howey's Wasteland series, William C. Dietz of Legion of the Damned series, along with other sci-fi powerhouses. And now Bennett R. Coles, Chanticleer Communty Author, SciFi ! 
Virtues of War debuts in the Titan Spring 2015 catalog and will be represented by Titan at all the major book trade shows.
The immensely talented Fred Gambino created the cover art for the military science fiction novel from Bennett Coles for Titan.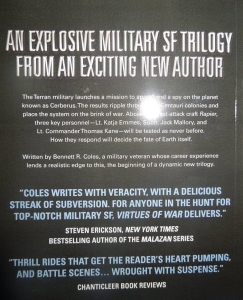 A sci-fi thriller of physical and psychological combat, Virtues of War sends readers hurtling through space to find that our warlike nature has survived intact into the 26th century. Click here to read the rest of the review.
We are looking forward to reviewing the second book in the Astral Saga Trilogy.
Here is the catalog copy for Virtues of War:
Lieutenant Katja Emmes is a platoon commander who was transferred last-minute to be the leader of the 10-trooper strike team carried aboard the fast-attack craft Rapier. Although fully trained, she has never led troops in real operations before, and she is haunted by the shadow of her war-hero father.

Sublieutenant Jack Mallory is fresh out of pilot school, reluctantly doing his duty in the mysterious world of extra-dimensional warfare while pining for the glamour of a fighter pilot position in the space fleet. Day-dreaming his way through life, Jack is in for a rude awakening.

Lieutenant Commander Thomas Kane is poised for promotion, and he knows that this six-month deployment in command of Rapier is the single, best chance to secure his rise to stardom within the Astral Force. He has already learned that performance alone isn't enough and actively dabbles in the subtle politics of his professional world, but he will learn that there are far more dangerous foes than the ones he can see.

Set far enough in the future to present a society that has evolved and splintered from our own, Virtues of War is a sci fi novel that reveals the traits common in any age, and ultimately looks at the heart of what makes us human.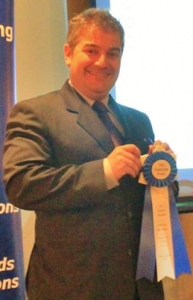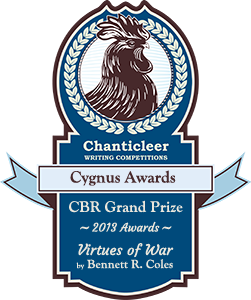 Ben Coles, an officer with plus 15-years experience in the Canadian Navy, demonstrates a crisp writing style, an impressive knowledge of military tactics and techno jargon, and an imagination crossed with a study of physics that has produced believable weaponry and space travel of the future. Way to go, Ben!
Here is Ben at the Chanticleer Awards Gala receiving his award. Photo courtesy of Elaine Dillon–all rights reserved.
Whose work will be awarded the next Cygnus Grand Prize Award? You can't win if you don't enter!
Click Here for information about the Cygnus Awards for Sci-Fi Writing Competition.