Writing Craft may be the key to writing a great story, but engaging people is the key to building a readership and a fan base.
Part 2. Establishing Competence and Credibility as an Author in Today's Digital World of Publishing: Engaging Readers and Building a Fan-base using Leadership Communication Skills
Recap of Part 1. Creating Identity and then Communicating It
Authors must take the leadership role in communicating with potential readers. Authors are also responsible for maintaining and nurturing the author/reader relationship. If they do not, then other authors who do will gain 'mindshare' of those readers.
By leading the communication about you and your work, you will have a distinct advantage of the hundreds of thousands of authors who do not.  And with a million plus books hitting the market this year alone, every advantage helps to position your work a notch higher.
As an author, lead the way to creating the digital paths that will help people discover your books. Today, that means communicating via the Internet. 
We listed the four cornerstones of Leadership Communication in the previous article as:
1) Creating Identity
2) Establishing Credibility and Competence
3) Creating Shared Content
4) Committing to Action
We also defined the Interverse as a global network that is overlaid on the Internet. The Interverse is where the virtual digital universe intersects with reality. To have an Internet presence means you must have a website that communicates your brand, your identity, as an author.
Part 2:  Establishing Credibility and Competence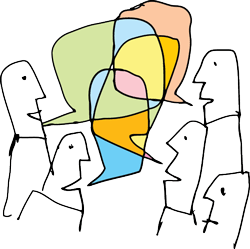 Authors must recognize the need for strong credentials to demonstrate competence to potential readers, book buyers, librarians, and media professionals.
Authors must be empathetic to readers. Why should they read your book? What will drive their decision? Where can they discover it/find it? How can you as the author gain their confidence and trust? When do readers decide what to read? Who are your readers/your audience?
Authors need to answer these questions honestly for themselves and then begin establishing credibility, credence, and competence with their potential readers.
Establishing Competence
Make sure that your work is the best that it can be. Believe in your work by putting together the best team of editors, proof readers, beta readers, press formatting editors (digital and/or print), cover designers, and publishing professionals that you can to produce your book. First impressions do count as do second, third, and so on. Readers are savvy.
Then acknowledge the team of talent that worked on making your work the best it can be in your work's preface. Your team then has a stake in your work and they will, in all probability, broadcast your work because it broadcasts their work.
Let the world of readers know that you did your very best for them—that you acknowledge them and that you are showing respect for them. Publishing your work as a professionally as you can conveys respect for Readers.
Results: Book buyers for bookstores and libraries are wary about buying books from Indie authors and small presses because of quality issues they have had to deal with previously. Their selections determine their next pay raise or even keeping on the payroll. Help them do their job by making it easy for them to see that your work is of a professional level and that it reflects the time-honored traditions of publishing that their readers have come to expect and demand.
A Reader will be more willing to tell others of your work if it reflects well on her.
 Ask Readers for their feedback & insights—not just reviews—and then reward them for their time and effort whether or not the information was positive or negative. Ask them for this information on a one- on-one basis through your website and social media messaging. (Of course, never feed the Internet trolls.)
Results: Readers will make a connection with you and your work. Connections lead to more introductions to other readers. This is how fan bases are created. Also, you gain valuable reader perspectives about your work.
Establish Credibility
Highlight Quotes, Reviews, and Support from Others to Gain Credibility
Why are reviews important?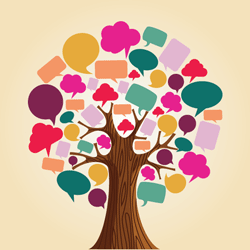 Reviews add weight to your credibility. Reviews allow for comparison and judgment thereby engaging potential readers in the mental process of decision making and discussion points. Your promotional efforts are not dissipating into the ether, but are actually getting noticed by potential readers and publishing professionals.
Reviews distinguish your work from the millions of other books that are in the market place.
Reviews support your author platform and add evidence that your work is validated by readers.
Reviews allow for discourse about your work.
Editorial reviews make available the language for readers to discuss your work and to use in their reviews. Authors have told us is that Editorial reviews give their readers the language and vocabulary to discuss their works. Editorial reviews also help to set the tone of reader interaction.
Reviews are critical to your work's success in today's digital age of publishing. Readers may never actually see your printed book, but your reviews will be easily available to read on the Internet.
Reviews crystallize what your book is about from its reader's viewpoint.
Reviews connect your readers through a commonality and promote discussion.
Reviews give authors something to post, blog, and chat about with their works that someone else has said. Authors can easily re-tweet, share, like, and comment on their Editorial Reviews without sounding "self-promoting."
Book Reviews are consistently one of the most powerful tools available to authors.
As much as you love your book and your family and friends think that it awesome, readers want to know what others think of your work to make their decisions. There are several types of reviews and reviewers:
peer reviews by other authors
editorial reviews by professional reviewers in the publishing industry
manuscript overviews – pre-publication editorial reviews
consumer reviews by individual readers
reviews by family and friends (cheerleader reviews)
An author requires the first four to make a professional impression on potential readers because each type of review has its own targeted audience and its own aim. And since there are many shades of gray, authors will benefit from having reviews from all categories.
For more information on reviews, please read "What is an Editorial Review? And How is It Different from just a Review?"
Use Quotes from:
Editorial Reviews
Other authors who write in your genre and have read your book
Those who have inspired you
Writing competition awards (be sure to link to competition's official listing of award winners)

Post and display digital badges from writing contests and affiliations

Notable personalities in fields related to book. For example, if your work is about a murder mystery that takes place in Provence, France, could you ask for quotes from a notable chef, or artist, or business owner from the area who has read your work. OR if your work is a medical thriller, try to get a quote from a medical examiner. Be creative!
All of the above increases your sphere of potential readers and adds value to your work and your author brand. Most importantly, quotes from others supporting your work will help you win the hearts and minds of your readers.
Let your passion and creativity show to engage readers! Make it easy for your readers to help you create your fanbase and for them to become evangelists about your work.
INFORM, INVOLVE, ENGAGE
As an author, lead the way to creating the communication paths that will help people discover your books.
My next post will be about:  Creating Shared Content in Today's Digital World.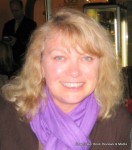 Kiffer Brown
discovers today's best books
with reviews and writing contests at Chanticleer Book Reviews, L.L.C., which she founded in 2010.  She is also 
a media scout and trend-spotter for executive film producers (with film options to her credit), literary agents, and publishing houses. She searches for today's sparkling gems that will become tomorrow's best sellers. She truly loves what she does and her passion shows. 
Kiffer helps authors develop methods that engage readers and expand their fan-bases. She has presented at 
Writers Digest NYC, RWA National, PNWA, PubSense Summit, and other conferences, where she focuses on the business of being an author. She invites you to attend the Chanticleer Authors Conference and Awards Gala held Sept. 27, 28, & 29 in Bellingham, Wash.  
www.ChantiReviews.com