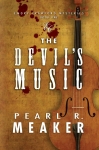 Publisher: Promontory Press (2015)
The last thing Emory Crawford – loving wife, empty nester, knitter,  library volunteer, blue-grass fiddler, and an avid reader of Miss Marple mysteries – would ever expect to find at quiet Twombly College, was an on-campus murder. The victim was a friend, fellow bluegrass musician, and bestselling author, Dr. Archibald Finlay Dawson.
When the police arrive, college president Jarius Twombly declares that he wants the whole thing kept as quiet as possible during the conference. And he wants the murderer arrested before it is over, while everyone is still in attendance. He assigns Jebbin Crawford, college chemistry professor (and Emory's husband), to monitor and report on the investigation. His friend and lab partner, Dr. Chatterjee, known as Chatty, will conduct the actual forensics analysis.
The stunned Emory seeks furry comfort with her two cats, Hortense and Kumquat, and her dog, Sophie. She finds liquid comfort in the form of hot chocolate in one cup and herbal tea in the other. As curiosity consumes her, Emory begins asking herself questions: Who could have wanted to kill Dr. Dawson?  Who had an alibi for the time of the murder? Then she wonders aloud just what her favorite mystery series sleuth, Jane Marple, would do. The cats stare at her.
Pearl R. Meaker, the author of The Devil's Music, introduces us to a range of intriguing and peculiar characters as Emory, a self-acknowledged Miss Marple wannabe, begins her own investigation in her own non-threatening way. After all, she is a grandmother who knits and bakes cookies.
The author delightfully takes us through Emory's transformation from empty nester homemaker to crime-solver in The Devil's Music. Emory must wrestle with self-doubt as she begins to trust her own investigative deductions. While the scientists use their labs and research methods to solve the crime, Emory precedes to continue seeking clues and answers in her own way.
We learn that Emory is quite well-read, and that her broad collection of interests aids her in astutely and stealthily gathering information. Meaker deftly weaves in fascinating bits of Salem witch trials history, old superstitions, the powers of herbal tinctures, the symbolism of flowers, and Bluegrass music. One can almost hear the devil's music, a specific type of Bluegrass—practically a character itself in the mystery—as Emory discovers the missing pieces to the puzzle.
The inquisitive and delightful Mrs. Emory Crawford, who uses her intuition and her knitting projects to solve crimes, will surely become a favorite sleuth to cozy mystery fans. Her quirky sidekicks with their interesting peculiarities, along with the locals of this quaint college town in the heartland of America, add touches of humor to this mystery.
Classic mystery readers will not be disappointed with The Devil's Music's plot twists and intriguing puzzles in this entertaining whodunit by Pearl R. Meaker. We look forward to the next book in this winsome new cozy mystery series.