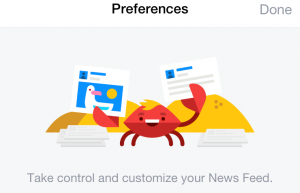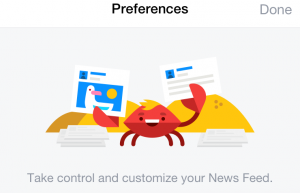 Take Control of Your Facebook News Feed with this new feature from Facebook
You've spent countless hours collecting readers and having them "Like" your Facebook page only to notice that only about 5 percent of your fans actually see anything you post.
If you were extremely lucky, Facebook's EdgeRank will allow 13 percent  of your followers to see your posts. This is amazing considering that the social media site has an average of 1,500 posts for each user per Facebook status updates on news feed. Approximately one hundred of those posts are seen by a "Friend."  Currently, there are more than  1.4 billion users on Facebook.
It was bound to happen. As Facebook users kept on liking more and more pages, Facebook started restricting the amount of data that would come over their news feed.
But now, Facebook has added new controls so that users can have more control over what posts that they want to see. Facebook calls this their Prioritize Who To See First feature.  However, you the user, must install and apply this feature to your Facebook page.
You can access this feature from via a browser on a computer or through Facebook's mobile application
Adjusting the News Feed Preferences from a Browser Window.
HERE is HOW to Install the Facebook "See First Feature" with Step by Step Directions
Adding a Single Page to "See First"
The quick and dirty method of adding a page to a "See First" list is just to click the "Liked" button on the page's home page. A "See First" option will pop-up that can be clicked. Go ahead and try it out by clicking here.

Changing Multiple Pages or People to the "See First"
This setting is accessed by clicking the small arrow on the right side of any Facebook page and then selecting "News Feed Preferences".
A new window will pop up displaying a list of all news items. It's categorized by People, Pages, Groups, and More. For example, if you never wanted to miss another Chanticleer announcement about contest winners, then you would select "Pages" and modify Chanticleer Book Reviews & Media from "Following" to "See First".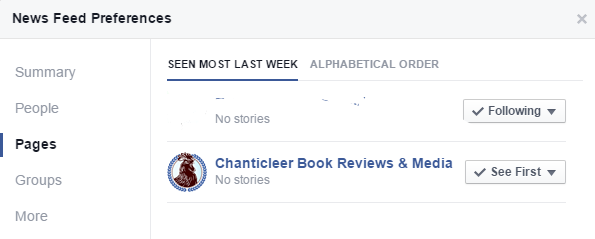 Adjust the News Feed Preference on a iPhone
From Facebook's Page:
"To get to News Feed Preferences, tap More in the bottom right hand corner of your mobile app. News Feed Preferences are located under Settings. You can come back at any time to update your choices."
This feature isn't available yet on Android devices.
After you click "News Feed Preferences", the following fun window will pop up.
Pressing the Prioritize Who To See First button will bring up a list of all of the people and pages that you follow. Unfortunately, there isn't a search feature so a user has to scroll through all of their friends before they get to the pages.
So next time you ask a reader to follow you on Facebook, remind them to add your page to the "See First" list so they won't miss any of your posts.
What do you think about Facebook's Prioritize Who To See First option? Join the discussion and let us know!