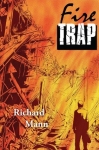 Publisher: Floating Dock Comics (October 16, 2012)
Buy the book now at:

Amazon
Author's Website
The biotech start-up Genetrix has been begging for a fourth round of funding from the venture capitalists at Hillberg in order to keep pace with well-funded rival, Roark, in a race to see who can put a breakthrough drug delivery system into the marketplace first.
Just when the high-tech movers and shakers should have been positioning themselves for a taste of profit, the top research and development scientist at Genetrix dies in an absolutely epic explosion that shakes its headquarters in Silicon Valley.
And that is the white hot intense opening of this clever whodunit. Was it murder or suicide? And who gets the insurance money after a heavily covered "key man" has died?  It is up to ace insurance investigator Randy Justice, who just opened his Justice Investigations office in Portland, Oregon to connect the dots and match wits with the hipster swells of the high-tech corporate elite.
Randy's pretty good, knows his own flaws, and can enjoy a scotch. He can handle tough corporate venture capitalists, and he can wrangle with his two feisty teenagers. Randy knows when to play his hunches and his sidekick, Arnie, keeps him focused.
Randy moved to Portland because he just inherited his parents' performance theater. He splits his time between a love of the theater and the thrill of chasing down bad guys. I found the author's frequent glances into the world of the performing arts to be both charming and informative, and he seems to freely enjoy poking fun at the quirks of West Coast culture.
In Fire Trap, first-time novelist Richard Mann dives fearlessly into the shark-infested waters of venture capitalists and high tech in this mystery-thriller. Mann juggles the complexities required of the successful whodunit with the sure-handed skill of a veteran mystery writer.
Indeed, Mann seems to be completely at ease with the genre. He demonstrates a solid knowledge of his material, managing to massage potential deal breakers such as the mundane intricacies of policies and insurance investigation, along with forensic science, into Fire Trap's tightly knitted plot without losing momentum or the white hot intensity of the narrative pace.
Fire Trap is a totally satisfying mystery/thriller that, in spite of a few nods to the stereotypical, it thrills, amuses, and entertains. Randy Justice faces the deadly dynamics of the biotech corporate world while managing to squeeze a little theater culture and some romance into his life. Mann's packing so much entertainment into the confines of a mere 206 pages is no less than a marvel—it's a mystery! First-time novelist Richard Mann has hit one out of the park with this fascinating and uniquely clever whodunit.
Reviewer's Note: Fire Trap won First Place in the Clue Awards Private Eye Category for 2013.