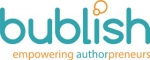 Chanticleer Reviews is honored to have Bublish, a proven book promotion and  marketing tool, as a sponsor of the Chanticleer Reviews Novel Competitions Awards.
Bublish awarded more than $5,000 in services to the 2014 Chanticleer Reviews Writing Competitions' winners at the Chanticleer Authors Conference Awards Banquet held on September 29, 2015 at the Hotel Bellwether located in Bellingham, Wash.
The award winners responses were so positive that I asked Kathy Meis, the CEO of Bublish, if there was anyway to make Bublish available at a special rate for the entire Chanticleer Community of Authors. And she said, "Yes!"
Many of you may not be familiar with Bublish and more than several of the Chanticleer writing contest winners had no idea about the marketing power of the CBR Bublish Awards package. But once they did, the compliments came rushing in!
And that is when I knew that I had to try  make Bublish marketing power available to all of the Chanticleer Reviews Community of Authors.
Kathy Meis, CEO of Bublish, enthusiastically agreed!
I asked her for an exclusive interview to introduce Bublish to the Chanticleer Reviews Community of Authors and Readers.
And here it is!
Kiffer: I am excited that you have taken time during the busy holiday season to give us an overview of the Bublish platform–especially when many of Chanticleer Community members are deciding on their marketing strategy for the new year. 
Kathy: I am delighted to, Kiffer. Bublish is the world's first complete publishing platform with integrated branding and discoverability features.
Authors can use Bublish to:
write
promote
sell
and track their work.
Our mission is to help authors reach their target readers, engage them and convert them to lifelong fans. We are committed to helping authors build a dynamic brand that drives more book sales. Every feature we build at Bublish, even our writing and eBook creation tools, works to enhance discoverability and build the author's brand.
Kiffer: What problems does Bublish address for authors?
Kathy: In today's crowded book marketplace, we know that discoverability is an enormous challenge. First-time and emerging authors face the biggest hurdle when it comes to discoverability. We know that readers are 15 times more likely to seek out and purchase books from authors with recognizable brands. Authors who successfully build a powerful brand can also charge more for their books. Writers who want to build a career as an author, must master brand-building skills in order to be successful. Bublish helps by automatically branding all the samples authors share with readers. The design, the features, the visual elements – it's all part of our platform for the specific reason of making brand building easier for authors.
Kiffer: Tell us about some of Bublish's features.
Kathy: Our most popular feature is the Book Bubble – our award-winning book sampling tool that combines crucial brand elements with calls to action. Book Bubbles take only minutes to create, and allow authors to:
Brand themselves along with their books with every book sample they share
Enrich their book excerpt with "the story behind their story" in the Bubble's. Sharing inspirations, struggles, and your "why" draws readers into their creative journey. Authors get to build a community around their work, rather than feel like salespeople.
Efficiently create, share and track social engagement with multiple Book Bubbles from multiple books all from one dashboard. And because Book Bubbles are "evergreen" content, they can be shared over and over across multiple social platforms. Your dashboard grows into a library of branded digital assets that you can weave into your content marketing calendar.
Track conversions to the book's product page at the major online retailers. We work with Amazon, Barnes & Noble, Google Play, iBooks and Kobo.
Optimize discoverability in two ways. First by connecting the dots for readers. With one click readers can go from sampling the author's book in the Bubble to buying that book at their favorite online retailer. If they're not ready to buy, they can visit the author's website, view their profile on Bublish or follow them to receive email updates from the author. through automated the SEO (search engine optimization). When an author sets up their profile and their books profile, all the metadata associated with the book (title, subtitle, author's name, ISBN, cover image, keywords, etc.) all "travel" with the Bubble, so that more readers can find your books through online searches. Secondly, draw interested readers from a social engagement with your Book Bubbles into permission-based email marketing through our "follow" feature.
If authors choose to write their books on Bublish with our eBook Creator, there are also "rough cut" Book Bubbles that can be shared right from an author's manuscript. This helps build pre-launch buzz, makes it easy to request reviews, and lets authors capture pre-orders. When the author is finished writing the book, they can select a book template with a single click and generate a beautiful ePub for distribution. There's no other writing tool like it in the world!
Kiffer: You've been in publishing for a long time, Kathy. What changes have you seen?
Kathy: I've watched the content industry change dramatically in the last 25 years. The rise of mobile devices, digital formats and online shopping has changed everything. You can write the best book in the world, but if no one can find it, it will be lost among the millions of books available at the touch of a button. Authors need new tools to reach and engage their readers and build a dynamic author brand to drive more book sales. Bublish was created to help authors be successful in this transformed book marketplace.
Here is a link to a Bublish Bubble by best-selling author Joni Rodger: http://bit.ly/1NiNt5W.
I've also seen this industry become more author-centric. No matter whether an author is independent or traditionally published, they're taking on more of the marketing of their work. I wanted to make it easier for authors to share their work without feeling like salespeople. The Book Bubble was designed to take care of the marketing, branding and discoverability elements, and let the author focus on storytelling – both through their book excerpt and the Bubble's Author Insight.
Some of the most powerful brands in the world use storytelling to break through the noise. I wanted authors to have that power, too. I know what it takes to create great content for readers, and I believe every writer deserves a chance to have their books seen by readers. That's my mission. It's why I created Bublish.
Kiffer: What does it cost to subscribe to Bublish?
Kathy: Our monthly subscription rate is $9.99 and our annual subscription is $99. We have created a special discount offer just for the Chanticleer community. Authors can sign up for our 30-day free trial at bublish.com. No credit card is required to try us out. If they upgrade by January 31, 2016, and use the discount code CHANTICLEER116, they'll get a full year subscription to Bublish for only $79. That's 40% off the monthly rate. It's our way of supporting the great authors who work with Chanticleer.  
Kiffer: Those are great deals! Thank you and the Bublish Team for your wonderful support and for recognizing this past year's annual Chanticleer Award winners.
Kathy Meis and Kiffer Brown: 
Happy Holidays from Bublish and Chanticleer Reviews!
30 day FREE Trial – no credit card required
40% discount code: CHANTICLEER116  valid until Jan. 31, 2016 for a full year subscription for just $79.