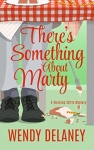 Genre(s):
Publisher: Wendy Delaney (2016)
Buy the book now at:

Amazon
Author's Website
Part-time Deputy Coroner and full-time Prosecutor's Assistant, Charmaine "Char" Digby has a secret. Her childhood heartthrob, hunky Detective Steve Sixkiller, is back in her life, not to mention under her covers. But the relationship comes with a catch.
Char's insecurities keep her from telling anyone about it, so it's no surprise when her matchmaking best friend, Rox, works double time to fix her up with Port Merritt's eligible and handsome ER doc, Kyle Cardinale. The good doctor goes out of his way to let Charmaine know that he's up for the chase while Detective Sixkiller questions Char's motives for keeping their relationship under wraps.
Charmaine's problems multiply when her boss sends her to interview the bereaved family of Port Merritt's wealthiest businessman, Marty McCutcheon, who rolled over dead at his 63rd birthday celebration. With a life-long diet of double cheeseburgers and a sultry new wife twenty years his junior it's no wonder Marty's heart stopped.
Health issues aside, his ex-wife, Darlene, is pointing fingers and crying "foul play." Between his greed-driven progeny, a jilted girlfriend, and a last minute decision to change his will, Charmaine's built-in lie detector is telling her it wasn't the clogged arteries that took Marty out.
As she pieces together the circumstances surrounding Marty's "last supper," Charmaine realizes that nearly everyone in his close circle has something to gain from his death. And when the cause of his death looks more and more like poisoning she presses an unconvinced County Prosecutor to open a formal investigation.
Unable to make her case, and over Detective Sixkiller's protests, Char takes it upon herself to dig into the McCutcheon family's personal business. Her determination to learn the truth lands her smackdab in the middle of the killer's radar, and as she mines the hidden corners of Marty's past, the information she unearths may never see the light of day.
Tightly written and packed with small town innuendo and gossip, Wendy Delaney's action-packed novel moves beyond the simple cozy mystery genre. With a wink and a nod to the Shakespearean complexities of a duplicitous, wealthy family, There's Something about Marty exposes the insatiable cravings and rivalries that arise when blood ties go bad.
This third installment of Wendy Delaney's "Working Stiffs" mystery series is an engaging, fast-paced read. Through her nimble use of wit and humor Ms. Delaney delivers rich, eccentric characters and clever plot twists that promise to keep the reader turning the page.