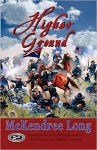 Publisher: High Hill Press (April 1, 2015)
Buy the book now at:

Amazon
Author's Website
In 1870, we meet up with Boss Melton and Dobey Walls during a trip to Kansas where, intent on vengeance, they are on the trail of a man named Penn. Penn and Red are the two remaining survivors of a gang of six white men who raped Dobey's wife and killed her mother, Boss's wife. The hunt takes Dobey and Boss to Hays, Kansas, where they are in the right place at the right time to save Wild Bill Hickok's life. The men then head for Abilene on the train, still intent on killing Penn. Big William, left behind to tend the wagon and horses, creates two fake graves for Dobey and Boss at Boot Hill, hoping to head off the Pinkerton agents, who are still on their trail for the theft of the Yankee payroll just after the war.
Those who have read McKendree Long's first two novels will recognize these characters and events, and will once again have the opportunity to visit with such old friends as the Watsons in Santa Fe, Dobey's mother, and Count Baranov. From the daily adventures of the men, to an edge-of-your-seat, blow-by-blow account of the Battle of Little Big Horn, (aka Custer's Last Stand), the author combines his wonderful talent for storytelling with in-depth historical research, placing the reader right beside these men in their final days.
Long's ability to represent the vernacular of the time and his clear-eyed vision of the historical events leading up to Little Big Horn, will enthrall as well as educate.
Walls and Melton embody the best of human values, exemplified through the valor of their actions, their honesty, and their determination to fight for what they believe to be just and right. These men leap off the page, remaining memorable long after the reader finishes the book.
But above all, this is the story of men who meet and become friends, and whose characters are shaped by a series of dramatic historical events that defined our country.
This novel goes beyond the typically simplistic view of the Civil War, delving into the divided loyalties of the homesteaders in the American West who found their families and friends fighting on opposite sides of the war. Long accurately portrays the dangers and shifting alliances of the Old West during the war, exposing the reader to a very different view of the war's effects on the western states. 
No Good Like It Is, Dog Soldier Moon, and Higher Ground create an award-winning trilogy of stories about the Civil War-era Western frontier that will leave readers feeling as if they spent many a pleasant hour with a cast of admirable and memorable characters who tell of their adventures and journeys.