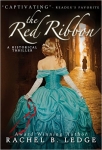 Publisher: Portico Press; 2 edition (September 9, 2014)
Buy the book now at:

Amazon
Author's Website
Julia King has begun to have haunting visions of the horrific event she witnessed at the last masquerade ball of London's 1772-1773 social season, a scene she has been trying ever since to forget—her lover, Roland de Claire, murdered her best friend Annie in cold blood.
Julia considers herself lucky to have found someone willing to wed her after being embroiled in the dreadful courtroom drama surrounding Roland's crime, in which she was tapped as the only eyewitness.
Now comfortably, if not precisely happily, married to successful, socially acceptable Charles King, she roams her idyllic estate with her sister Lennie, trying to discourage the younger girl's obvious interest in a dashing sea captain, and suppress her own romantic memories of Roland. Recurring visions of Annie's murder, however, give Julia the discomfiting sense that all is not as it seems.
When Lennie falls pregnant and has to leave the country in disgrace, Julia is alone with Charles, who is gradually revealed as cunning, ruthless, and utterly domineering. He claims he is the long-estranged brother of her now hung sweetheart Roland, and takes her to the de Claire estate to prove it. There, driven by her nightmares, her suspicions of his motives become so apparent that Charles has her locked in a madhouse.
Author Ledge has constructed a stirring, twisted tale in which something unexpected occurs in almost every chapter. Some readers may find that the beginning of the story moves slowly, but they will be rewarded for their patience when the suspense builds the work into a page turner. She writes equally vividly of grand masked balls, scurvy goings-on in London's back alleyways, and the creaking decks of a ship at sea. And she neatly ties together all the plot threads into a satisfying ending. 
The Red Ribbon proves a satisfying romp for fans of historical fiction, with its glittering ballrooms, bloody frays, mysterious subplots, mistaken identities, and voices from the grave.