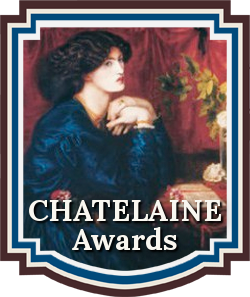 The CHATELAINE Awards Writing Competition recognizes emerging new talent and outstanding works in the genre of  Romantic Fiction and Women's Fiction. The CHATELAINE Awards is a division of Chanticleer International Novel Writing Competitions.
We are pleased to announce the 2015 CHATELAINE Awards Official First Place Category Winners. Good Luck to them as they compete for the 2015 CHATELAINE Grand Prize Award.
Congratulations to the 2015 CHATELAINE Awards First In Category Award Winning Romantic Fiction Novels:
Legacy/Legend: Nicole Evelina – Daughter of Destiny
Historical Romance: Susan Örnbrattt – The Particular Appeal of Gilliane Pugsley
Regency: Julie LeMens – Once Upon a Scandal
Women's Fiction-Short Story Collection:  Mary Ann Henry – Ladies in Low Places
Women's Fiction: Miriam Polli – In a Vertigo of Silence
Adventure/Suspense: Kaylin McFarren – Banished Threads
Mystery/Suspense: Joanne Guidoccio – A Season for Killing Blondes
Inspirational/Restorative: Andrea Weir – A Foolish Consistency
Young Adult/New Adult: Natasha Boyd – Deep Blue Eternity
Honorable Mentions:
Danica Winters – Smoke and Ashes
Belangela G. Tarazona – Hiatus
J.L Oakley – Mist-shi-mus: A Novel of Captivity
John Herman – The Counting of the Coup
More than $30,000 dollars in cash and prizes are awarded to Chanticleer International Blue Ribbon Awards Winners annually.
The CHATELAINE First Place  Category award winners will compete for the CHATELAINE Grand Prize Award for the 2015 Romantic Fiction Novel. Grand Prize winners, blue ribbons, and prizes will be announced and awarded on April 30, 2016 at the Chanticleer Authors Conference and Awards Gala, Bellingham, Wash.
The First In Category award winning titles will receive an award package including a complimentary Chanticleer Book Review of the winning title, digital award badges, shelf talkers, book stickers, and more.
We are now accepting entries into the 2016 CHATELAINE Awards. The deadline is November 30, 2016.  Click here for more information or to enter.
Congratulations to those who made the CHATELAINE Awards 2015 FIRST PLACE official listing.
More than $30,000 worth of cash and prizes will be awarded to the 2015 Chanticleer Novel Writing Competition winners! Ten genres to enter your novels and compete on an international level.
Who will take home the $1,000 purse this coming April at the Chanticleer Awards Gala and Banquet?