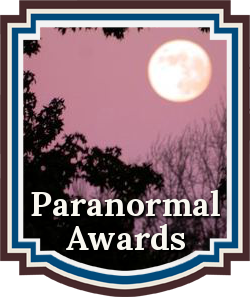 The Paranormal Awards Writing Competition recognizes emerging new talent and outstanding works in the genre of Paranormal and Supernatural Fiction. The Paranormal Awards is a division of Chanticleer International Novel Writing Competitions.
We are honored to announce the 2015 Paranormal Awards Official First Place Category Winners. Good Luck to them as they compete for the 2015 Paranormal Grand Prize Award.
Congratulations to the 2015 Paranormal Awards First In Category Award Winning Supernatural Fiction Novels:
Young Adult: Shaila Patel – Soulmated
Supernatural Powers -Romance: Carolyn Haley – The Aurora Affair
Supernatural Powers: Paula Cappa – Greylock
Romance: Diana Green – Bronze Fox
Werewolves, Vampires, etc.: Kayla Hampton – The Assassin
Legends & Lore: Gail Siler, PhD – Decoding the Butterfly Promise
Fairy Tale, Fable, Myth: Sabina Khan – Realm of the Goddess
Time Travel> Magic : Karen Musser Nortman – The Time Travel Trailer
Time Travel> Gripping: Andy Kutler – The Other Side of Life
D.L. Koontz – Edging through the Darkness
Urban/Edgy: K. J. McPike – XODUS
Historical: Michael Schmicker – The Witch of Napoli
Gothic: K.C. Finn – The Book of Shade
Contemporary Gothic: Linda Watkins – Return to Mateguas Island
Ghosts: Aphrodite Anagnost & Robert P. Arthur – Passover
Honorable Mention
Penny Page – Coven Corners
Alex E. Carey – Earth's Embrace
Harry Steven Ackley

– Our Lady of West 74th Street
More than $30,000 dollars in cash and prizes are awarded to Chanticleer International Blue Ribbon Awards Winners annually.
The PARANORMAL First Place  Category award winners will compete for the PARANORMAL Grand Prize Award for the 2015 Supernatural Fiction Novel. Grand Prize winners, blue ribbons, and prizes will be announced and awarded on April 30, 2016 at the Chanticleer Authors Conference and Awards Gala, Bellingham, Wash.
The First In Category award winning titles will receive an award package including a complimentary Chanticleer Book Review of the winning title, digital award badges, shelf talkers, book stickers, and more.
We are now accepting entries into the 2016 Paranormal Awards. The deadline is October 31, 2016.  Click here for more information or to enter.
Congratulations to those who made the PARANORMAL Awards 2015 FIRST PLACE official listing.
More than $30,000 worth of cash and prizes will be awarded to the 2015 Chanticleer Novel Writing Competition winners! Ten genres to enter your novels and compete on an international level.
Who will take home the $1,000 purse this coming April at the Chanticleer Awards Gala and Banquet?