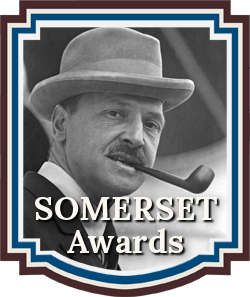 The Somerset Awards Writing Competition recognizes emerging new talent and outstanding works in the genre of  Contemporary/Literary Fiction. The SOMERSET Awards is a division of Chanticleer International Novel Writing Competitions.
We are honored to announce the 2015 SOMERSET Awards Official First Place Category Winners. Good Luck to them as they compete for the 2015 SOMERSET Grand Prize Award.
Congratulations to the 2015 SOMERSET Awards First In Category Award Winning Contemporary/Literary Fiction Novels:
Contemporary: Tom And Nancy Wise – Life On Base: Quantico Cave
Women's Fiction: Kayce Stevens Hughlett – Blue: a novel
Speculative Fiction/Magical Realism: Rick Lenz – The Alexandrite
Literary: Caitlin Hicks – A Theory of Expanded Love
Mystery/Suspense: Judith Kirscht – Hawkins Lane
Adventure/Action: Jen Michalski – The Tide King
Blended Genres:  Gary Grossman – Old Earth
Honorable Mentions:
J.P. Kenna – Toward a Terrible Freedom
James Gregory Kingston – The City Island Messenger
Cat Lynn Boyle – Shadow Dance
Tom Glenn – The Trion Syndrome
More than $30,000 dollars in cash and prizes are awarded to Chanticleer International Blue Ribbon Awards Winners annually.
The SOMERSET First Place  Category award winners will compete for the SOMERSET Grand Prize Award for the 2015 Contemporary/Literary Fiction Novel. Grand Prize winners, blue ribbons, and prizes will be announced and awarded on April 30, 2016 at the Chanticleer Authors Conference and Awards Gala, Bellingham, Wash.
The First In Category award winning titles will receive an award package including a complimentary Chanticleer Book Review of the winning title, digital award badges, shelf talkers, book stickers, and more.
We are now accepting entries into the 2016 SOMERSET Awards. The deadline is November 30, 2016.  Click here for more information or to enter.
Congratulations to those who made the SOMERSET Awards 2015 FIRST PLACE official listing.
More than $30,000 worth of cash and prizes will be awarded to the 2015 Chanticleer Novel Writing Competition winners! Ten genres to enter your novels and compete on an international level.
Who will take home the $1,000 purse this coming April at the Chanticleer Awards Gala and Banquet?