Listen to or download this article: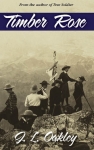 Publisher: Createspace (2013)
Buy the book now at:

Bookchain

Amazon
Author's Website
In the early 1900s, an independent young woman is forced to choose between family ties and romantic love, and face the consequences of her decision.
Caroline Symington could live out the privileged life that her birth in a well-to-do family entitles her to, but her nascent notions of feminism take her on adventurous hikes and climbs in the northwestern mountains, where she meets a man whose grit matches her own. He gradually lures her to a far different destiny—one that she willing embraces over the path her parents have planned for her.
Bob Alford, son of Scandinavian immigrants, is a tough logger sympathetic to the  union struggles with Caroline's wealthy relatives. He loves hiking just like Caroline. She disguises her surname when they first meet, with near-disastrous consequences to their growing and mutual affection. ​Once the two acknowledge their feelings with total honesty, marriage is the next logical step, even though it will alienate Caroline's family.
Life for Caroline with her chosen mate (rather than a husband preferred by her father) will involve unexpected sacrifices. His new job as a forest -ranger will take him away from home for days at a time. Pregnancy looms as a hoped for event, while childbirth, alone in the wilderness, is a terrifying prospect.
Luckily, there is a female soul-mate in the wings for Caroline, a fellow feminist named Cathy, and, for Bob, a mysterious and canny mountain man, Micah, who will provide rescue more than once. But before the young couple can really be free to live as they choose, they must face down the hypocritical, haughty Symington clan and prove that love can conquer both snobbery and scurrilous terror tactics.
​Spanning the years from 1907 to the rumors of the world war in 1916, this historical romance by award-winning author J. L. Oakley assuredly creates and sustains a magical love affair between Caroline and Bob, while successfully tackling a multitude of overarching themes: the determination of American working men to act collectively against self-seeking business titans; the will of American women to demand their autonomy despite the many subtle societal forces holding them back; and the formation of American national parks to preserve and protect nature's beauty.
Set at a time when the old ways were yielding to the industrial age on a number of significant fronts, Timber Rose is a timeless love story on a human scale, but one with a heart as big as the mountains of the great Pacific Northwest.