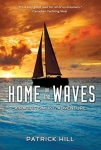 Publisher: Promontory Press (2015)
Buy the book now at:

Amazon
Author's Website
Family, love, and adventure are all tied together in Patrick Hill's alluring travel memoir Home on the Waves. It's a story set in the 1970's that provides remarkable insight into the lives of a family exploring the open ocean and discovering new cultures and people.
Hill's memoir is an excellent read for everyone interested in reading about out-of-the-ordinary lifestyles and family adventures, even if they have never set foot on a boat.
As a previous liveaboard and fellow sailor, I enjoyed reading a story that showed the family's journey in becoming familiar with the sea. Their adventure starts with Patrick, a civil engineer, sitting in his office reliving fond memories of his days on the water.
He decides to take action and create more treasured memories and to share his love of sailing with his wife and children. That momentous decision will disrupt his normal life with its mortgage almost paid off and a boss not expecting him to ask for an extended leave of absence just so he could go sailing.
From start to finish, we see every step of Patrick and his family's adventures in building the boat and getting it into the water. I particularly liked watching them build the boat in the backyard, and reading about all the BBQs they had and the friends they made (and neighbors they probably annoyed).
A novel and compelling addition to this engaging memoir is his incorporation of his family's perspectives. His wife, Heather, and his children Jeremy and Erica, voice their experiences, including both the happy memories and the frustrations of living together on a 42-foot sailboat with one head (toilet) over fourteen months and across 15,000 miles at sea while moving at an average speed of five miles per hour.
This family travel memoir uses some technical terms of boating and lingo of sailors, adding to the genuine nautical ambiance of the story. I found it fascinating to read about sailing during the 70's before computer technology was available to individuals. Cell phones, personal computers, chart-plotters, "epirbs" for satellite location, and other gadgetry didn't exist. Noon sights had to be taken from hand-held sexton for navigation, printed charts were a must, and de-salinator water makers were not readily available, so gathering rain water using tried and true methods was essential.
What really makes this memoir a special gem are all the nuances incorporated into the chapters. I learned about pleasingly random things such as how to make limes last longer and on which side to wear a flower in your hair when attending local festivities. As well, Hill is unflinchingly honest about the less glamorous aspects of sailing: trash on the shores, paying people off to get gas, and long johns. Are you wondering what they are (and they are not what you thinking)? Join Hill and his family to find out.
The Hill family definitely was at home on the waves as they sailed down the coast from Vancouver, British Columbia to Mexico, over to the Marquesas, on to Bora Bora, and finally, back north to Alaska. As I sailed with them, I kept an atlas nearby to orient myself to major points. This gave me a deeper "armchair adventure" to the South Pacific and to Alaska. I was engaged quickly and then transported because there was never a dull moment in this Pacific sailing adventure and Hill graciously supplied photographs of the family's journey.
Home on the Waves brings life to exotic cultures, sailing, and family life in 1970's America. It's a true story that will inspire readers to seek their own adventures and find ways of making dreams come true. Here's to the Hill family and their adventures, their boat, Sky One Hundred, and to all those who follow their dreams.