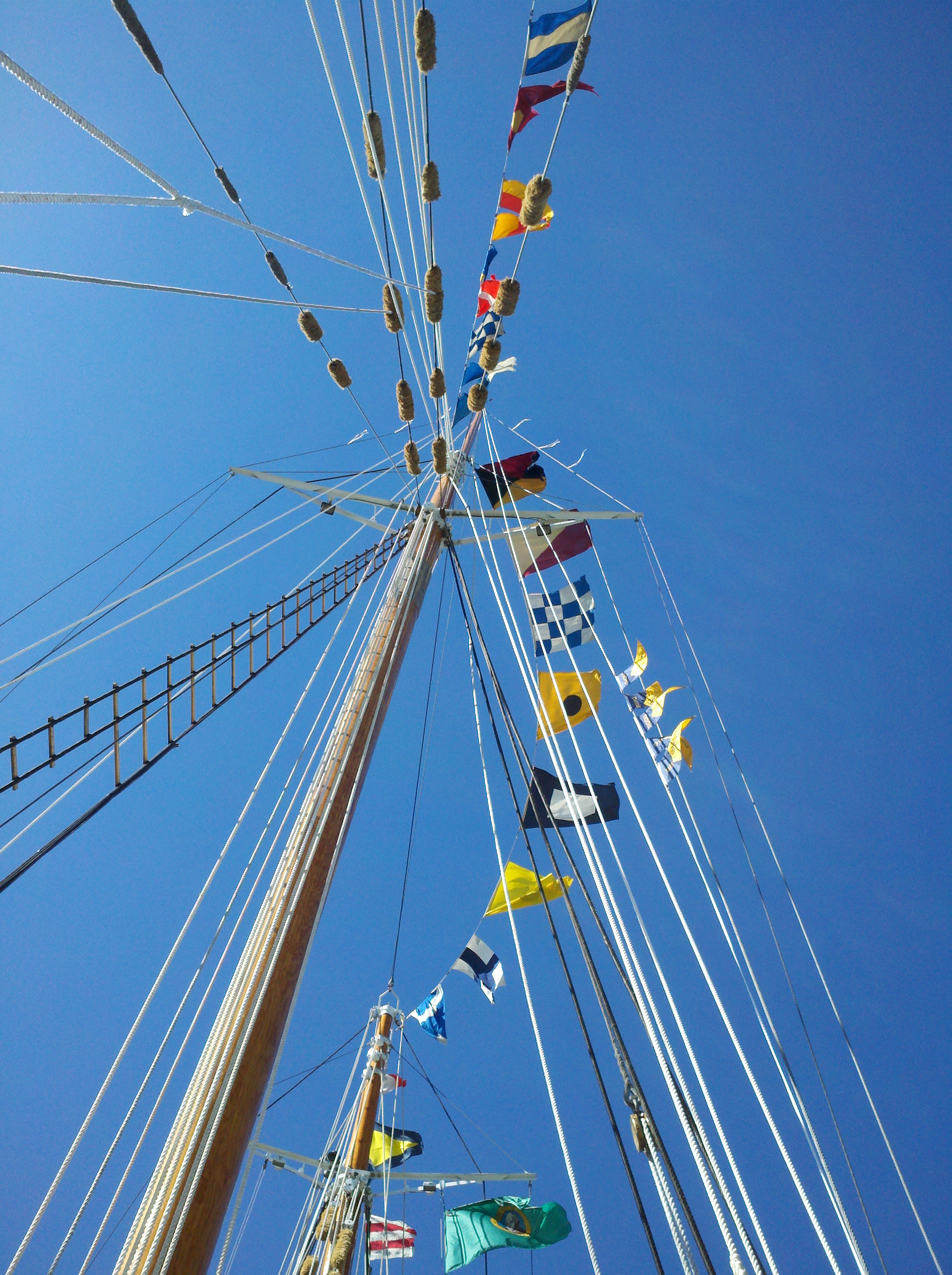 What Opens but Never Closes? The Opening Day of Boating Season
Here are five of our favorite reads from authors who followed their dreams to sail away.
One couple (with two teenagers in tow – yikes!) started by building their boat in the backyard of their suburban home; two who started only with the love for each other, the support of friends and family, and a dilapidated hull and a three cylinder iron works engine; one whose true story will make you reconsider taking to the tall seas; one whose story will inspire you to look beyond society's conventional solutions and rationalizations and to plot your own course; and one who shares how an everyday couple made their dream come true of sailing the Pacific Ocean on a 31-foot boat and a tight budget. 
Boating season begins in the Pacific Northwest on the first Saturday in May, a tradition which goes back to the 1920's. To celebrate, we thought we would offer you this superb reading list of true story boating adventures by local northwest authors.
After all, if you are going to be spending time boating this summer, or enjoy dreaming about boating from your lawn chair, stocking your library is just as important as stocking your galley!
More Faster Backwards: Rebuilding David B by Christine Smith
"Christine Smith and her husband Jeffrey race against time, money, and natural elements to save the David B—the vessel that they bet all of their resources on in hopes of making their dream of owning and operating a small expedition cruise boat in the Pacific Northwest come true.
"More Faster Backwards, Rebuilding David B"  seamlessly mixes nautical terms with natural elements and boat builder's craft. Those who enjoy cooking and baking will also discover it a delightful read. Seafaring people will sail through the narrative like soul mates, but landlubbers might appreciate a glossary of boating terms. The map provides great references and the photo albums heighten the pleasure.
More Faster Backwards,  Rebuilding David B by Christine Smith won the Grand Prize of the Journey Awards for Narrative Non-fiction, a division of Chanticleer Book Reviews Blue Ribbon Writing Competitions." Read full review…
Christine Smith started working on tour and whale watching boats in 2001. It combined her love for nature and her interest in helping others to enjoy it. She is also an avid birder, and has worked as a volunteer interpreter for the Eagle Watchers on the Skagit River from 1997 to 2008, she helps visitors observe the local eagle population. She is also a founding member of the Northwest Wildlife Rehabilitation Center, which became part of Whatcom Humane Society in 2014. She served for two years as a board member and Secretary for the North Cascades Audubon Society in Bellingham, Washington. When not watching birds or cooking on the David B, Christine enjoys running, ice skating and downhill skiing.
Cape Horn: One Man's Dream, One Woman's Nightmare by Réanne Hemingway-Douglass
"In Cape Horn: One Man's Dream, One Woman's Nightmare," Réanne Hemingway-Douglass vividly recreates a sailing voyage in which she and her husband Don set out to round Cape Horn. As the reader discovers, they never quite got there. Meanwhile, Hemingway-Douglass shares the heady magic of starlit nights and breathtaking dawns, grueling and toilsome days, emotions ranging from joy to absolute terror, and a determination not to give up hope when all seems lost." Read full review…
Réanne Hemingway-Douglass is a sailor, writer, cyclist and language teacher. Here articles have appeared in numerous outdoor magazines. Her best-selling book, Cape Horn: One Man's Dream, One Woman's Nightmare, has been published in French and Italian and is being translated into Spanish. In the 1980s, Réanne led the first women's bicycling team to cross Tierra del Fuego at the tip of South America.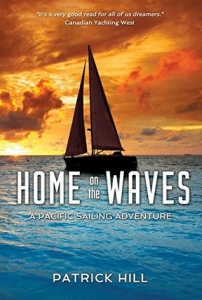 Home on the Waves by Patrick Hill
"Family, love, and adventure are all tied together in Patrick Hill's alluring travel memoir "Home on the Waves." It's a story set in the 1970's that provides remarkable insight into the lives of a family exploring the open ocean and discovering new cultures and people.
Hill's memoir is an excellent read for everyone interested in reading about out-of-the-ordinary lifestyles and family adventures, even if they have never set foot on a boat.
"Home on the Waves" brings life to exotic cultures, sailing, and family life in 1970's America. It's a true story that will inspire readers to seek their own adventures and find ways of making dreams come true." Read the full review…
Patrick Hill, with wife Heather and family, have been sailing out of Vancouver, B.C. for years. They've owned nine sailboats from a 17′ to a 42′ boat, Sky One Hundred which they built. They have cruised extensively, written articles for magazines, made presentations to yacht clubs, libraries, the Vancouver Aquarium, and a major Alaskan cruise line
Prepare to Come About by Christine Wallace
"Christine struggles with her loss of identity as a successful professional, a role model, a caring mother, and a supportive spouse while she battles with the economic recession, personal depression, and, worst of all, her own loss of trust in herself and her capabilities.
Her fractured family makes an unorthodox choice that pivots them all into unfamiliar waters. Their lifeline comes in the form of a tall ship named Zodiac and its enigmatic captain. Life or death challenges and unforeseen moments of wonder and awe await Christine and her family. As they venture forth together in this new venture, the family members reconnect and rebuild their lives." Read full review…
Christine Wallace is the author of two books including The Pocket Doula and Prepare to Come About. Her work has appeared in the literary journal Clover (vol. 3, 2012, vol. 6, 2014). Christine was founder and CEO of "Gracewinds Perinatal", a nationally award winning business. Christine currently resides in the Pacific Northwest onboard an ex-forestry boat with her husband, youngest daughter and a seaworthy tabby named Lucky Jack.
Tightwads on the Loose by Wendy Hinman
"Tightwads on the Loose – A Seven Year Pacific Odyssey" opens with a map of the Pacific Ocean that showed the voyage of the sailing vessel Velella starting and ending in Seattle. Soon the reader is immersed in the plans of Wendy and her husband, Garth, to set sail on their open-ended adventure. And we wonder how long an introvert, whose motto is "always be prepared," can live in tight quarters with an extrovert whose motto is "just wing it."
This book will definitely appeal to those who are curious about sea voyaging.  Armchair travelers will find a diversity of cultural experiences, historical details, and adventures for their entertainment and education.  Come on board and sail away with the intrepid Wendy Hinman and her humorous and ingenious insights about life at sea." Read full review…
Wendy Hinman, author, editor, and speaker, has shared her sailing adventures through emails and her blog. She is a regular contributor to the Magazines 48 North and Latitude 38.  Wendy's also been featured in Sail, Cruising World, Sailing, CYC Leadline, Hebe Jebees (Hong Kong) and Kazi Magazine (Japan).
Enjoy getting to know these intrepid souls by visiting their websites for more information and the latest updates on their adventures.
Fair Winds and Following Seas!