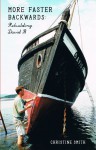 Publisher: Old Heavy Duty Publishing (2011)
Buy the book now at:

Amazon
Author's Website
"More faster backwards," she yells to the boat captain. Christine Smith's angst makes her words tumble out scrambled. These words, now the book title, summarize how obstacles pushed Christine and her husband Jeffrey "more faster backwards" during their boat's reconstruction.
They race against time, money, and natural elements to save the David B—the vessel that they bet all of their resources on in hopes of making their dream of owning and operating a small expedition cruise boat in the Pacific Northwest come true.
The adventure begins when Christine and Jeffrey Smith, searching for an old boat to transform into a small passenger vessel, examine a sixty-five foot 1929 work-boat, precariously moored on Lopez Island—the neglected wooden vessel that hovers near death is the David B.  However, Jeffrey sees the elegant beauty of a three cylinder antique engine and the strength of the hull made from Northwest timber. Christine saw the look in Jeffrey's eyes and knew that this was the boat.
In the opening pages, we learn they've accomplished part of their dream and we're ready to climb aboard. The author seamlessly carries us from her present experiences and joy during the sea voyage, back into her memories, where she re-lives the enormous hurdles of the rebuild process.  The flashbacks work well because we want to know. Need to know.
With hearts captivated by the David B, the couple gambles everything. Looming bankruptcy lurks alongside the other huge challenges. Anxiety heightens because their cherished family and friends (without whom they couldn't have succeeded) share the risk. Readers will think, "This can't be done" and then ask themselves, "How did they do it?" Intrigued from beginning to end, we peek into the lives of the author, her husband, the crew, family, and friends. We yearn for their success and their safety.
More Faster Backwards, Rebuilding David B  seamlessly mixes nautical terms with natural elements and boat builder's craft. Those who enjoy cooking and baking will also discover it a delightful read. Seafaring people will sail through the narrative like soul mates, but landlubbers might appreciate a glossary of boating terms. The map provides great references and the photo albums heighten the pleasure.
A sample of Smith's fluid writing style:   "Jeffrey worked the boat with the skill of a lover. Every movement she made, he watched carefully, to see how she responded to his commands, the light breeze, and the incoming tide." 
When the literary boat trip ends, readers might sense an inner torch quicken along with the call to embrace their dreams anew.  As for Christine and Jeffrey, the restoration of the David B is just the beginning.
More Faster Backwards,  Rebuilding David B by Christine Smith won the Grand Prize of the Journey Awards for Narrative Non-fiction, a division of Chanticleer Book Reviews Blue Ribbon Writing Competitions.