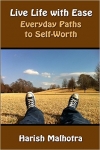 Publisher: Partners in Psychiatry Press (November 19, 2015)
Buy the book now at:

Amazon
Author's Website
Readers of Dr. Harish Malhotra's two previous books (Metaphors of Healing: Playful Language in Psychotherapy and Everyday Life and Pathways to Hope: Innovative Insights for Therapists and Patients) are in for a treat as his third title continues us on the healing path paved with entertaining metaphors. New readers too will enjoy holding Dr. Malhotra's hand through life's ups and downs as he takes us on a journey with 55 stories in Live Life with Ease: Everyday Paths to Self-Worth, each tale replete with his amusing touch.
In chapters like, "Settle Into Your Ideal Lifestyle," "Pain, Pain, Go Away," "Overthrowing Fear," and "The Weight of Eating," Dr. Malhotra tackles universal themes in a lighthearted, yet practical way. By weaving these humorous metaphors, he blesses us with the way he sees life as we confront fear, worry, addiction, lack of self-worth, sleeplessness, and unhealthy eating.
Take for example, the chapter "Infatuation," where Dr. Malhotra advises us to employ the "Sleep on it/24-hour rule." He compares decision-making to buying a new house – one that seems to boast a gorgeous skyline but is located on a dangerous street. "Let your excitement simmer down before making decisions. Reason may replace infatuation," he counsels.
In one of the more playful stories, Dr. Malhotra poses to the reader: "Are you like a fart or a flower?" Despite the silliness, he raises a sincere dilemma: why would we surround ourselves with people who are "toxic" and "seething with resentment,"  rather than those who are "fragrant" with a "pleasant demeanor and gracious words." Point well taken, Dr. Malhotra, with a nod to our olfactory.
We have to assume that Dr. Malhotra, a board certified psychiatrist in private practice in Summit, NJ, pulls from his more than 40 years in a white lab coat as many of the sketches include (imaginary?) dialogue between doctor and patient. "Don't fight the smoke with a sword of worry," he says to a patient who is anxious about the future.
Throughout the book's 304 pages (or 364 pages via e-reader), we feel like he is our own personal guru and we are a better person for it.
In one of my favorites, "Dating, Inc." he likens relationships to "Hair Softener or Chewing Gum." Holding on too tight is like getting chewing gum balled up in your partner's hair," he says. "Some hair has to be cut off to get rid of the gum… Some problems in relationships stem from too much contact."
Perhaps the book, which makes a delightful gift for a college graduate or a loved one needing inspiration, can best be enjoyed as a bedside reader, referring nightly to the index to locate specific passages in times of stress: "Reframing Problems," "Risk Taking," "Welcoming Attitude," and "Unlearning Habits."
For further inspiration, you can see Dr. Malhotra on his YouTube channel, "Helpful Hints for Hangups," where he acts out the rousing metaphors with members of his family.