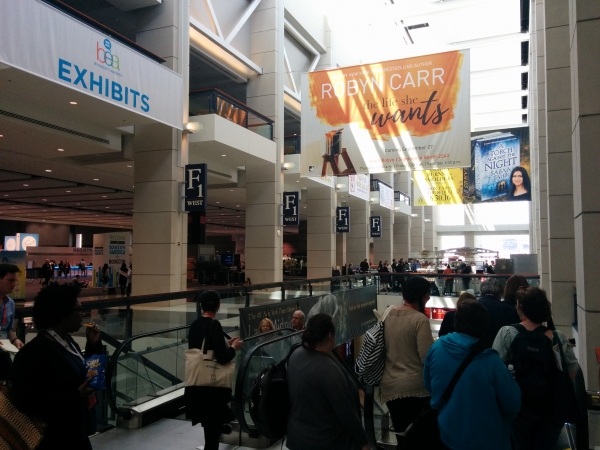 Top Ten Takeaways from 2016 Book Expo of America – Chicago
The Number One publishing industry event in North America and one of the biggest in the world. BEA is the largest gathering of booksellers, librarians, retailers, publishers, rights, licensing, and book industry professionals in North America.
BEA gave me a press pass that allowed me a carte blanche to walk the show, take in presentations and sessions, attend special events, view the latest products, and meet with exhibitors.
Here are the ten takeaways that I gathered from overhearing buzz, listening to experts sharing the latest information, and seeing the latest trends at BEA 2016.
Drum-roll please! 
The Top Ten Takeaways from BEA 2016
Never ever forget that books for "the trade" (books available to the general public – digital or print) must entertain–even if their purpose is to educate.
Covers RULE — every spot of a cover whether digital or print is highly valued real estate because it is the number one influencing tool to induce a potential reader to pick-up a book or click on a digital book for more information.
Book buyers for libraries, as a rule, wait to decide on whether or not they will  purchase a book until they can "hold it in their hands" along with requiring that the book has been editorially reviewed (not consumer reviewed). If authors/publishers want to reach librarian book buyers, it behooves them to have their books at the ALA conventions.
E-books as a percentage of US wholesale trade market sales are more than 25% of all sales in 2013, 2014, & 2015.  Source: AAP
Readers are "flipping like otters" between e-books and print books.
The publishing market is going global because of E-books. Forty percent of Smashwords/iBooks sales are global. Retail digital platforms (Amazon, Kobo, iBooks, Smashwords, etc.) are global.
Generation Z, X, & Millennials now use YouTube as their Google Search. Keep this in mind when creating channels of book discovery pathways.
Publishers want/need series–not one-offs (single titles)– because that is what bookstores want and, ultimately, what readers want. 

Gen Z, Y, and X want authenticity in engagement. They do not want to be sold to on social media platforms. Gen Z communicates in images — think emoticons.

The nut to crack is to get people to read and buy books rather participate in other kinds of entertainment (gaming, movies, watching TV, etc .) that are competing for their time rather than worrying about Indie vs Traditional publishing.  See Item 1.
Next year, BEA 2017 will be held in back in New York City and Kiffer Brown of Chanticleer Reviews plans on being there to bring the Chanticleer Community of Authors the latest in publishing news.
Be sure to check out Kiffer Brown's marketing blog-post series that she presented at BEA 2016, The Seven Must-Haves for Authors.