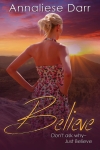 Publisher: Bellastoria Press (2014)
Buy the book now at:

Amazon
Author's Website
Spring O'Flaherty has an unusual problem. From childhood she's been not only clairvoyant, but also able to see auras. These are not just faint, she can see them if she squints auras, but vibrant auras, dark auras, life force fading auras –a virtual kaleidoscope of energies always swirling.
Fortunately, she comes from a loving and religious family that understands her special talents and helps her deal with them the best that they can. Her father is a preacher in the Blue Ridge mountain country of western Virginia, and often takes the family on revival trips and her mother doesn't discount her daughter's unique "gift."
Even with her family's support, Spring has some terrifying experiences in her youth that made her suppress her powers and reject God. ("Holding the person you love as he bleeds out is enough to turn anyone into a cynic," she tells her mom.) She walks away from the painful past and works hard to build a normal life, becoming an attorney in Atlanta where she tries to block her "gift." Her new world disdains and disavows the mysterious, intangible forces, which suits Spring just fine.
That is, until she meets Jed Collinsworth, a charming, handsome, and well-bred Southern gentleman who is also a top-level district attorney from a wealthy family. When her dream comes true and he asks her to marry him, she then begins to balk from fear that learning of her powers will not only repel Jed personally, but that worries that her "gift" becomes public knowledge that it might ruin his career.
So, she seeks help from a psychologist, who takes her back to the beginning. Through revisiting her memories, she starts to integrate who she was with whom she is, while hoping to find a way to live with her gift, and trying to be honest with the man she loves without scaring him off or ruining his career.
Annaliese Darr, the author, writes of the Appalachian culture of tent revivals, blue grass & gospel music, and beliefs in "psychic gifts" and the old ways with a deftness and clarity that juxtaposes Spring's new life chapter in the big city. Darr's dialogue and characters are refreshing and captivating while her heartwarming story encompasses mystery and murder.
The novel is split between her backstory, brought out through the counseling sessions, and the front story of how she deals with Jed and her powers ("I could feel the noose of destiny tightening around my neck"). The narrative is straightforward with no ruffles and flourishes, but is written sometimes with witty and loving banter and sometimes it is written with palpable sadness that steps the reader through a complex tale and time switches without confusion. Darr balances the mystery of "what happened?" with "what happens next?" as she capably builds the suspense and tension on several fronts.
Spring's refusal to tell Jed her secret is frustrating to him and to her—especially because Jed is someone whom we, the readers, can believe can deal with it. However, at the point her hesitation turns implausible, we recognize the true battle Spring is fighting. Readers will find themselves rooting for Spring (and for Jed) and for the bad guys to get what they so justly deserve in this very special story that will touch your heart and pull you in.