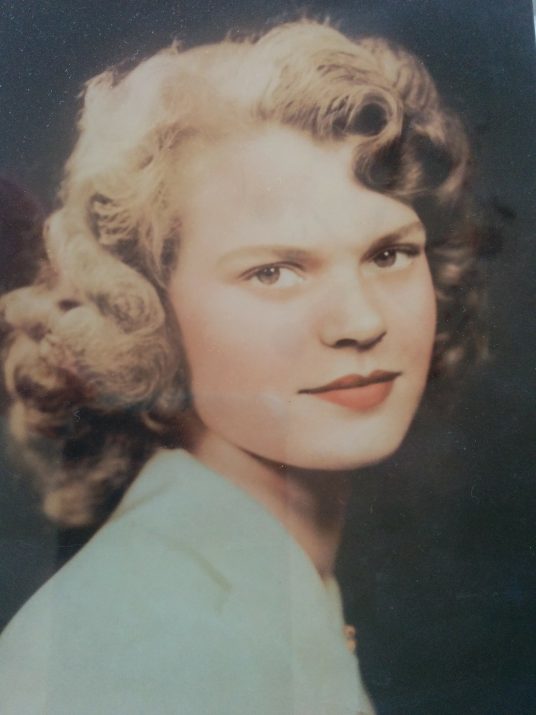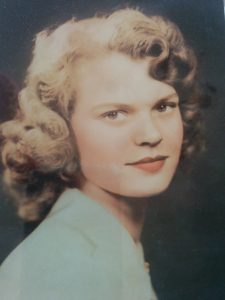 This particular Memorial Day is especially meaningful to me because of my beloved mother's, Antha Mae,  passing this past Friday on May 26, 2017. My mother was proud to be a serviceman's wife.  My father retired after 36 years of service in the Unites States Merchant Marines & Marine Corps where he served in the WWII, Korean War, and the Vietnam War. He died in 1981 from one hundred percent service related injuries.
Momma, as I have always called her, accompanied Daddy on his Stateside tours of duty. She has lived in Tuscon, Calif.; Camp Pendleton, Calif.; Honolulu, Hawaii (when it was a territory); and Camp Lejeune, NC while raising two children on and off military base housing. She has traveled by old propeller planes, trains, naval transport ships, and has driven (Daddy never drove) cross-country several times with her children in tow as a dedicated military spouse and mother. She enjoyed meeting the other military wives who came from all over United States and from around the world representing different cultures, languages, and religions. Toni was known to be someone who the other servicemen's wives could turn to in difficult times along with relying on her friendship and camaraderie in adjusting to military base-life.
Momma spent countless nights and days worrying over Daddy's safety when he was away on maneuvers, sometimes trying to survive in foxholes, and at one time living in underground tunnels in the DMZ zone in Vietnam (Dad was proud to be a Recon Marine). There were big chunks of time when she was left alone with the care and raising of my brother and me because of spotty correspondence from him due to security issues and slow mail service. When Dad came back from Vietnam, he was a different man–a changed man–and not for the better. He suffered from post traumatic stress (PTSD) and so she suffered along with him from the aftershocks of what he experienced. Our family life changed dramatically. Dad always tried to bury his PTSD and he never talked about what he had experienced while fighting. He tried to keep an "even keel" and "buck-up."  Semper Fi.
"I went away to war one person and came back another, and in my wildest dreams would never have chosen to be the one who came back." – Christopher Oelerich, who relates his own personal history, beginning from when he was drafted into the military during the Vietnam War, and continuing through his return to civilian life and his own rocky road to recovery in his memoir, Merry Christmas and Happy PTSD.
My mother, like many military spouses, raised my older brother Tony and me alone for much of the time. She fluctuated being uprooted from the two very different lifestyles: military housing and the civilian environment. But through all the ups and downs, my mother was always proud to be his wife, a wife of a United States Marine.
Our father passed away in 1981. Our mother never remarried.
"Our debt to the heroic men and valiant women in the service of our country can never be repaid. They have earned our undying gratitude. America will never forget their sacrifices." – President Harry S. Truman.
To this sentiment, I would like to add a note of great appreciation to the spouses (male and female) of the heroic and valiant men and women who have served in the United States of America's military service–those who try to  make a home while constantly being constantly uprooted, who raise the children alone for long periods at a time, and who vigilantly pray for the safe return of their loved ones. My heart goes out to the many spouses whose loved ones did not come back and for those whose loved ones who came back injured physically, emotionally, and/or mentally.
Some statistics worth repeating regarding U. S. Veterans*:
22 veterans, on average, commit suicide every day.
The suicide rate for younger veterans (18 -29) is 7 times higher than their civilian peers.
The rate of suicide among veterans is 21 percent higher than the rest of the country.
The  suicide rate of among female veterans is a 140 percent higher than their civilian peers.
No one knows how many military spouses and families members commit suicide, but the number is suspected to be quite high.
There are 18.8 million veterans living in the United States.
3.8 million of these veterans are disabled (2014).
U.S. military is the world's second largest (China's army is the largest) and troops are deployed across the globe.
It is believed that 45 percent of all veterans who served in the Middle East are disabled.
Three Ground-breaking Books 
Here are three ground breaking books that we have reviewed that may be a valuable resource to those who have served or who have loved ones who have served in the US military or are family members of military veterans.
"How important it is for us to recognize and celebrate our heroes and she-roes!" – Maya Angelou
I write this post in memory of my mother, Antha Mae (Toni) Pace who was proud to be the wife of a Marine and the mother of his children. She passed away on Friday, May 26, 2017 at the age of 87 years.