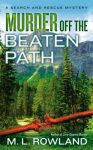 Publisher: Berkley (2014)
Buy the book now at:

Amazon
Author's Website
It's an uncommon mystery novel that delivers a really good whodunit and yet makes the central character's passion for her avocation, in this instance the world of mountain search and rescue teams, an equally good reason for reading a book from cover to cover.
M.L. Rowland knows her stuff in the field of S&R and authorship. You'll never again see a TV news report of someone caught in a mountain disaster—trapped after a rock slide or pinned in their car after plunging off a high-altitude road—without remembering the riveting account of Gracie Kincaid as she and her experienced, professional rescue team make their way down a dangerous cliff at night to recover the body of a crash victim, only to discover that the victim is a dear friend of hers.
It's a dark portrait.
You'll know everything Gracie sees, feels, hears. Virtually no detail escapes her, whether it's the seedy Christian camp where she works in the mountains of Southern California as a rope climbing instructor, on the trail of the suspicious, nasty, even venal brothers who run the camp, or her heartbreaking chores as an experienced senior member of a mountain search and rescue team. But it's her experiences as a senior member of her team at work, that sets this book apart from other cozy mysteries. It's possible to get these details from book-learning, but the writer's personal experience in this field clearly shines through.
While Gracie excels in her public service passion, not the same can be said about the rest of her life. A former advertising exec, she's wandered from place to place until she has settled into a small cabin in the mountains of Southern California. A rich Brit that she rescued on a previous mission wants to wrap her up with a bow. They have great passionate sex—only hinted at here—but his world is not her world. And then the fellow Searcher, who captures her mind, but, alas, not her heart.
The third man in her life, certainly not by choice, is an utter creep. Her scary encounter with him, richly detailed, is a convincing portrayal of a monster.
The mystery itself is rich and satisfying: the story of a woman, told in the third person as a narrative, who obsesses over the suspicious death of a friend and co-worker at the camp and her search to uncover the terrible secret her friend discovered before she died when her car plunged over a cliff on a tortuous narrow mountain road. What she discovers is a web of drug-dealing, parental abuse, and the dark secret of what is really going on with the children attending the camp. A strange and sorrowful juxtaposition the camp makes against the pristine surrounding landscape.
The portrait that emerges is of a smart, well-trained but hardly invulnerable woman whose occasional forays into her personal life seem less successful than her dedication to her work. Her life may be messy, but, isn't everyone's? Murder Off the Beaten Path manages the literary trick of being both a good mystery and a well-drawn portrait of a woman any reader might want nearby if found in dire need of being rescued in the mountains.
Recommended.