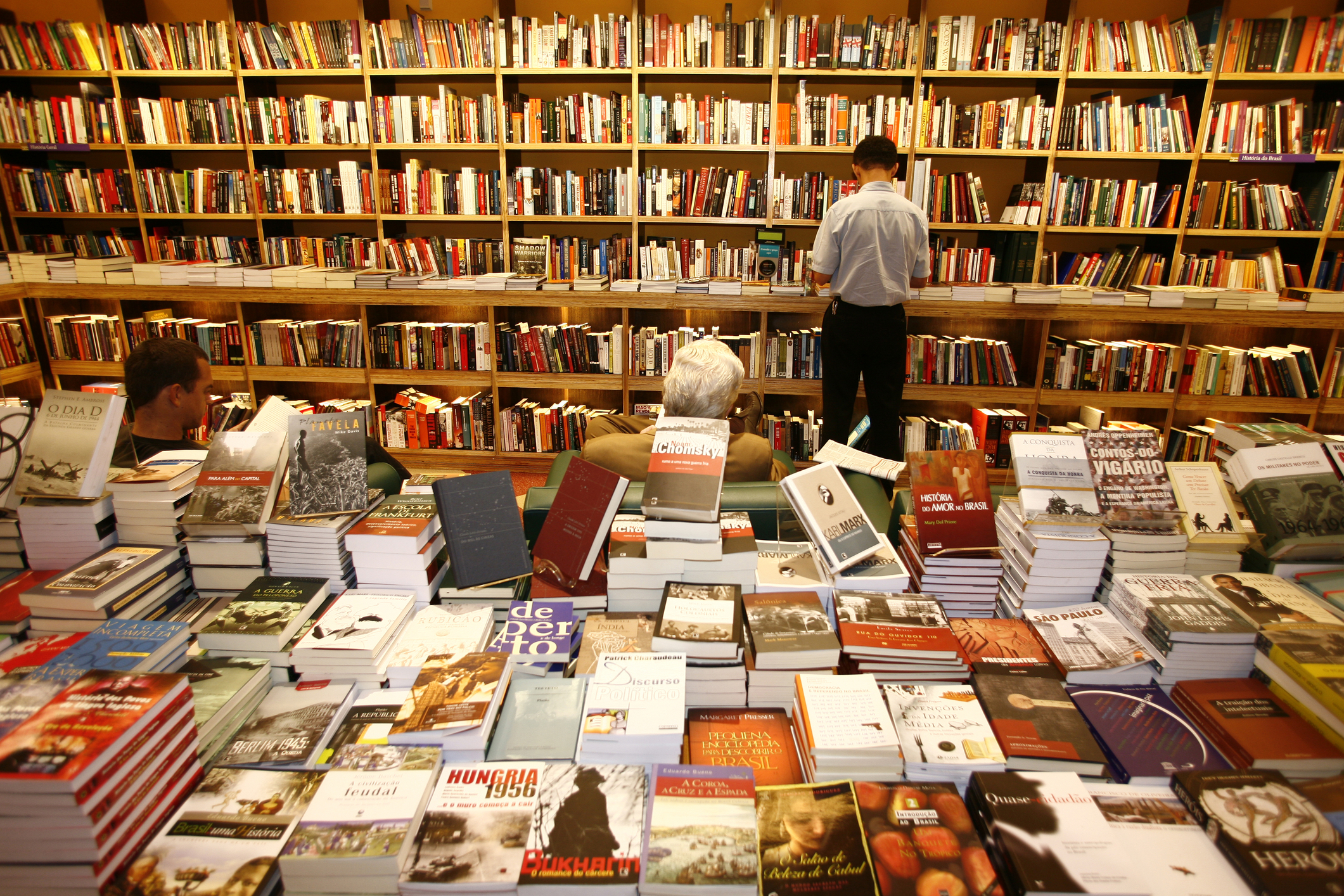 Or Effective Book Covers Deconstructed
A  few weeks ago, a wonderful and talented author named Debu Mujumdar contacted me about how to begin creating an effective book cover. Effective cover meaning one that will sell itself to readers, bookstores, agents, distributors, librarians…He knows that his current cover is not serving his novel well, but where to start. "What are the first steps to create an effective book cover? Where do I begin?" he asked.
You see, Debu's novel, Sacred River: A Himalayan Journey, has won multiple prestigious awards. You can read the Chanticleer review by clicking this link.  He published it in 2016. However, from what I could surmise from his email, he isn't pleased with its sales or readership reach.  The story is unique and exceptionally well written and has a suspenseful climax. It is filled with tense sub-plots that are engrossing and the stakes are high!
But the cover he now has reflects very little about the story within. We discussed his cover at last year's Chanticleer Authors Conference session on book covers. I think I will call the session this year THE GREAT CHANTICLEER COVER "Bake-Off" (with a nod and a hat tip to The Great British Bake-Off TV show). At these sessions in the past, brave authors (self-published) have lain their books on the Cover Altar to be scrutinized—and not just by me, which would be tough enough, but by their peers.  Debu was one of the brave authors who laid his book on the Cover Altar for judgment.
I then would hold up the targeted book for about 3 to 5 seconds to the group and ask the following question: "What is the genre of this book?"
Notice, that I did not ask, "Do you like this cover?"  An effective book cover is not necessarily "pleasing."
An effective book cover communicates information. And not just the basics—that is a given.
Most of the time (99% I'd say), not one person in the group could tell the genre of the (self-published) books laid on the Cover Altar —much to the chagrin of the books' authors.
Why 3 – 5 seconds? That is the time that the cover has to attract a potential readers' attention.
Potential Readers being booksellers at tradeshows, librarians at the ALA shows, shoppers on Amazon, shoppers at your local bookstore, shoppers at WalMart or Barnes & Nobles or at the airport … Well, you get the picture.
In this 3 to 5 seconds, your cover must communicate quickly and effectively the following 5 Elements:
The Genre (Historic? Thriller? SciFi? Romance? Cozy Mystery? Literary? etc.)
The Primary Targeted Age Group (Adult for the Trade? Guys? (think Tom Clancy) or Gals? (think Rebecca Wells), General Audience? Young Adult? Middle-Grade? Clean reads market? (think Jan Karon) etc.)
Mood (Humorous? Suspenseful? Adventurous? Dark? Light-hearted? Romantic? Horror? Spiritual? etc.)
Timeframe (Current? Futuristic? Regency? WWI? Western? Classic Roman? etc.)
Place or Cultural Reference (India? New York? Africa? Outer Space? California? Paris? Russia? Japan? etc.)
An effective book cover will convey all of this information (or enough of it) to capture a potential reader's attention in less than 5 seconds—three seconds really. It will garner enough interest to have the potential reader to pick it up or click on the link to find out more. If it does not, your book is invisible to potential readers. And yes, that is a publishing industry's insider's term.
Invisible books rarely sell.
Effective covers sell the first book. The content between the covers sells the second book. And you can quote me on that.
Here are some examples of before and after covers that have been lain upon the Book Cover Altar:
Example No. 1
James Wells' The Great Symmetry, a Cygnus Grand Prize Book Award for Science Fiction:
BEFORE                                                        AFTER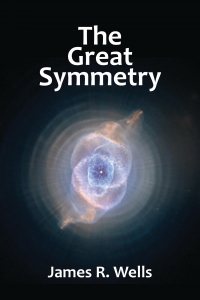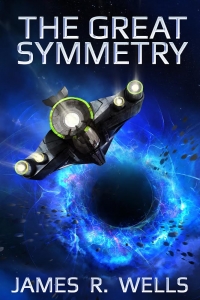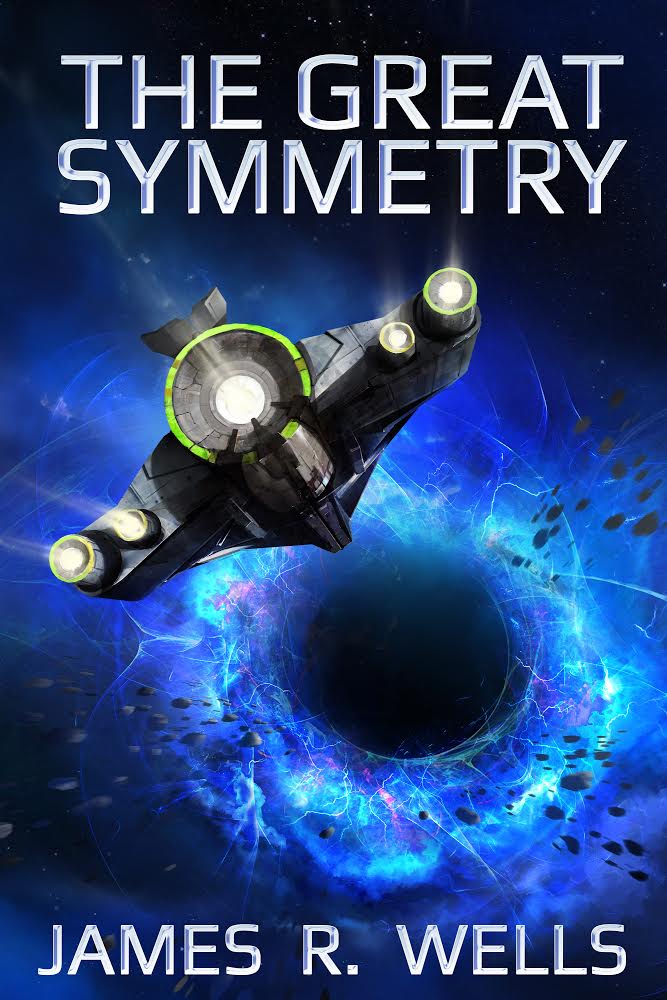 The comments regarding the original cover were:
Is it a biology book? Is it a math biology book? I dunno? Is it a non-fiction book?
Point made.
Bookbub picked up The Great Symmetry with its new cover. 'Nuff said.
Does the new cover  communicate quickly the 5 Elements above:
Genre – yes. Clearly Science Fiction
Primary Age Target Group – yes. General Audience for the Trade (i.e. commercially viable, a plus!)
Mood – yes. Suspenseful with Action — Is that a black hole? Looks scary!
Timeframe – yes. Futuristic with high technology
Place or Cultural Reference – yes. OuterSpace — possibly intergalactic.
Example Number 2
Sara Dahmen's Doctor Kinney's Housekeeper, Laramie Grand Prize Winner for Western Fiction
BEFORE                                         AFTER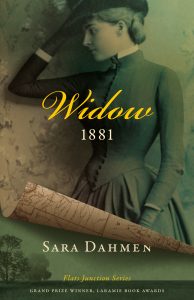 The comments made during the Great Cover Bake-Off regarding the original cover were:
Is it a cookbook for baking? Is it a book about a baker? Again: I dunno? Is it a non-fiction book?
Point made.
Dr. Kinney's Housekeeper was picked up by a publisher because it had an interesting storyline and commercial potential (read, TV series). After some rewriting to pose the book as a series, a new cover was created that reflected the storyline along with a new title Widow 1881: Flats Junction Series
Does the new cover communicate quickly the 5 Elements above:
Genre – yes. Clearly Historical Fiction, the late 1800s
Primary Age Target Group – yes. General Audience for the Trade – female-focused
Mood – yes. Change is coming. The fancy wallpaper from city life Back East to the map of the territory clearly shows this. The cultured young woman standing in front of fancy wallpaper is wearing clothes that do not allow for much movement or made for working.  Note the tiny waist from wearing a corset, her fine gloves, the fine wool flannel, and her hair arrangement, her hat. This young woman is heading out alone to a place where there will be little refinements that she has become accustomed to. Will she survive? What awaits her?
Timeframe – yes. 1881 (And what was it like being a young widow in 1881 going out to unknown territory alone)
Place or Cultural Reference – yes. North America West against Back East culture in the late 1800's
Sara is happy to report that book sales are brisk and the novel (first in the Flat Junction series) is under consideration for film options.
Example No. 3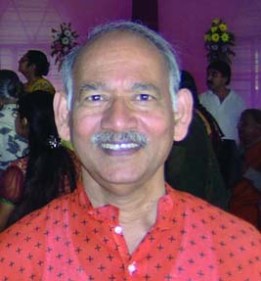 Now let's go back to Debu's award-winning novel, Sacred River:   A Himalayan Journey. 
Click on the link above if you want to visit Debu's website.
The tags for the book are Literary Fiction, Multiculturalism Issues, Mystery, Thriller/Suspense, India.
Here is the novel's cover: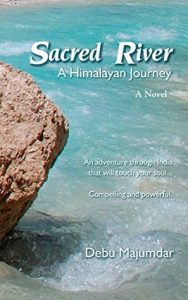 Now let's apply the 5 Elements. What does the cover tell you in less than 5 seconds?
The Genre:  Travel? Non-fiction?
The Primary Targeted Age Group:  General Audience? Probably. Literary audience? Probably not. Suspense/Thriller audience? No way.
Mood: Don't know.
Timeframe: No idea.
Place or Cultural Reference: No idea?
Does the cover convey any of the following (blurbs from the Chanticleer Review of it)?
"A tour de force of India's history, religion, culture, philosophy, anthropology, sociology, and politics are neatly packaged as a mystery…"
"…As speculation of a golden hoard hidden in the sacred temples arises, Chetti and his associate scheme to locate and plunder treasure for a noble cause…"
"An engrossing and tense subplot unfurls, one that will ensnare a temple swami along with some of the pilgrims to the Ganges. This adventure, which culminates in an enormously suspenseful climax…"
"Readers will feel they are in a marketplace, on the side of the mountain, in a temple, and bathed in light and water. Especially lovely are the passages noting religious rituals and the spiritual significance of the Ganges. The author weaves in Indian legends and morality stories, artfully juxtaposing parallels between ancient tales and his characters' modern lives."
Nope.
Debu's award-winning novel deserves a cover worthy of the time and writing craft that he invested into it. His cover has to intrigue potential readers and booksellers to pick it up wherever it is displayed. The cover must convince the web surfer to click on the image.
But how?
My advice to Debu is to begin collecting visual elements of people, objects,  paintings, locations, symbols, ideas, etc. that reflect the content of the work. Take several weeks to do this. Enlist friends, family, and readers to help with this. Gathering visual elements would make a great social media campaign. Ask readers to post photos or graphics of images that remind them of the novel.
Dig deep. Come up with at least 30 elements, if not more.
Lay the visual printouts where you can see the elements from far away, close up, upside down. Such as writing the novel, exploring the cover concepts will take time. Deciding on the cover concept will take more time and feedback.
In a few weeks of letting ideas percolate, particular visual elements will begin to resonate. Then you will have something to explore.
Don't let your book become invisible to its potential readers!
Effective covers sell the first book. The content between the covers sells the second book. And you can quote me on that. (And yes, I am repeating myself. )
I will continue with another blog post that discusses what comes next—How to Put the Elements Together for an Effective Book Cover.
Here is a link to Canva. It is a FREE graphic-design tool website that is easy to use. It is a great way to explore cover ideas and to play with visual elements to discover what will resonate cover-wise with your readers.
Meanwhile, keep on writing! ~ Kiffer
Click here if you would like information about the Chanticleer Authors Conference
Or here for more information about the Chanticleer International Book Awards.