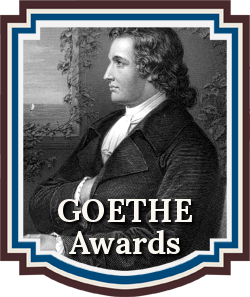 We are excited and honored to officially announce the Grand Prize Winner and the First Place Category Winners for the 2017 GOETHE Book Awards for Post-1750s  Historical Fiction Novels at the fifth annual Chanticleer Authors Conference and Chanticleer Book Awards Ceremony. This year's ceremony and banquet were held on Saturday, April 21st, 2018 at the Hotel Bellwether by beautiful Bellingham Bay, Wash.
We want to thank all of those who entered and participated in the  2017 GOETHE Book Awards, a division of the Chanticleer  International Book Awards.
When we receive the digital photographs from the Official CAC18 photographer, we will post them here and on the complete announcement that will list all the genres and the Overall Grand Prize Winner for the 2017 Chanticleer International Book Awards. Please check back!
Click here for the link to the 2017 GOETHE Shortlisters! An email will go out within three weeks to all Shortlisters with links to digital badges and how to order Shortlister stickers.
Congratulations to the 2017 GOETHE SHORTLISTERS!
Gregory Erich Phillips, the author of the 2014 Overall Grand Prize Winner, Love of Finished Years,  announced the First Place Award Winners and the Grand Prize Winner for the 2017 GOETHE Book Awards at the Chanticleer Awards Banquet and Ceremony.
Congratulations to the First Place Category Winners of the 2017  GOETHE Book Awards. 
An email will go out to all First Place Category Winners and Grand Prize Winners with more information, the timing of awarded reviews, links to digital badges, and more by May 21st, 2018 (four weeks after the awards ceremony). Please look for it.
2017 GOETHE Book Awards First in Category Winners for post-1750s Historical Fiction Novels are:
A Cherry Blossom in Winter by Ron Singerton
The Boy Who Danced With Rabbits by J.R. Collins
Full Circle: A Refugee's Tale by Joe Vitovec
Fenian's Trace by Sean P. Mahoney
Paladin's War by Peter Greene
The Shape of the Atmosphere by Jessica Dainty
And now for the 2017 GOETHE Grand Prize Book Awards Winner for Post-1750s Historical Fictional Novels is:

by Peter Greene
This post will be updated with photos from the awards ceremony. Please do visit it again!
The deadline to submit to the 2018 GOETHE Book Awards is June 30, 2018.
Our next Chanticleer International Book Awards Banquet will be held on Saturday, April 20th, 2019, for the 2018 winners. Enter your book or manuscript in a contest today!