Listen to or download this article: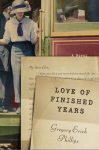 Buy the book now at:

Bookchain

Amazon
Author's Website
An immigrant's journey, a forbidden love, a war to end all wars collide on the pages of a beautifully written historical fiction, Love of Finished Years by Gregory Erich Phillips.
At twelve years of age, Elsa Schuller carries no expectations when she reaches Ellis Island in 1905. In fact, she has no idea why her father insists on leaving Germany for this supposed Land of Opportunity. Riddled with nothing less than challenges and hardship working in the sweatshops in lower Manhattan, Elsa's only ray of hope is learning how to read and write English.
Her studying pays off when she's hired seven years later to work as a maid and translator for an upper-middle-class family, the Grahams, on Long Island. For the first time, Elsa begins to dream of something more than the ragged gray life she and her family have lived thus far.
Elsa is not quite sure what to make of Dafne, the Grahams' ebullient yet impulsive seventeen-year-old daughter, who disregards class distinction and is fascinated by Elsa. After a time, the maid and her mistress become good friends. A few years later, Dafne becomes engaged to a close friend to both Dafne and Elsa, Glenn Streppy.
Unfortunately, their engagement is overshadowed by the war that is brewing. And to Dafne's disappointment, Glenn enlists in the army. It doesn't help that he unexpectantly catches her with his best friend when he tries to visit her while on leave from his military responsibilities.
Glenn cuts off all contact with Dafne, which saddens Elsa as she misses his friendship. In a daring move, Elsa visits him at his stationing post just before his transfer to Europe. It is during this short visit she realizes that she is in love with him. Moreover, Glen reciprocates her adoration. While Dafne successfully snubbed the social mores of the day, Elsa cannot. She is still just an immigrant from a poor family—a poor German family—and has no right to fall in love with a man of standing.
While guarding her emotions, Elsa has something even worse to consider: the reality that this encounter may very well mark the last time she'll ever see her dear friend, Glenn, alive.
Award-winning author Gregory Erich Phillips produces a poignant early 20th-century plot. So much more than your typical love story, Love of Finished Years raises readers' consciences and invites them to consider the realities of a time not too long ago (and in some ways, still relevant in today's discourses on immigration) when people were divided not only by language but by the social mores and their class in American society, but also between rich and poor, "citizen" and "immigrant," male and female.
Incorporating various themes into his absorbing plot, Phillips highlights the importance of workers' rights (Triangle  Shirtwaist Factory) the Women's Suffrage movement; and the plight of immigrants, especially during The Great War. Some examples include the use of propaganda against the American Germans (via Liberty Bonds); again, the use of propaganda to boost American support, and the immorality of war.
Laced with a well-defined cast, Love of Finished Years opens at a critical moment in Elsa's life before taking readers back in time to her arrival to America followed by a chronological lead up to her relationship with Glenn and Dafne. Key to Phillips four-part storyline is his use of genteel dialogue—typical of that era—to build emotional tension not only between his primary characters but secondary characters as well.
From the riveting opening that takes place in NYC's Lower East Side's sweatshops until its gripping conclusion, this enthralling novel vividly portrays the desperate times of German immigrants landing at Ellis Island in 1905 in search of a better life. A timely read, illuminating the issues we are still experiencing a century later, Phillips reminds us that love, light, and perseverance can help us find a way to overcome almost any obstacle.
Love of Finished Years is destined to claim a spot alongside our favorite reads. Love of Finished Years was awarded the Chanticleer Grand Prize while still in manuscript form. It has since been  published.