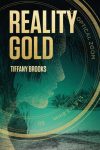 Publisher: Dunemere Books (2018)
Buy the book now at:

Amazon
Author's Website
Riley Ozaki is eighteen and trying desperately to find a way out of her reality as a recent social pariah. With her reputation at rock bottom, she decides that only a huge gesture can repair her social standing, win back her father's approval, and gain her some new friends. She decides to participate in a reality tv show. What could go wrong?
Reality Gold by Tiffany Brooks features the behind the scenes reality of reality tv—everything from love triangles and mind games to real life buried treasure and murder. This novel is a fast-paced romp through tropical jungles and into deep, dark caverns where allies may not be who they say they are and legends abound.
Riley arrives at Black Rock Island off the coast of Brazil, her home for the next few weeks, ready to put in the work needed to repair her reputation. But there is a darker side to the reality show that Riley wasn't expecting. When cameras turn up destroyed and fellow castmates suffer injuries, Riley quickly realizes the mind games began the minute the cast landed on the beach.
Not only will the group of contestants be competing for a cash prize, but the producers of the show have added an extra challenge—whoever can find the hidden treasure rumored to be on the island will receive an additional cash prize—and it soon becomes clear that the games may turn deadly. Legend has it that seven must die before the island reveals the treasure. Six have died in the past, including Riley's close family friend, Miles Kroger.
Tiffany Brooks has crafted an incredibly readable, fast-paced, YA coming of age adventure novel where everyone has a secret, and no one is who they seem. The first-person narration and short chapters make this a compelling read, one where readers will find themselves thinking 'just one more chapter.' The setting is lush and captivating, the characters are intriguing, and Riley Ozaki is a protagonist for today's readers—she's smart and resourceful, and smack in the middle of a journey to self-discovery. She must embrace life's realities, including loss and deceit, to discover for herself what she truly wants in life and who she is.