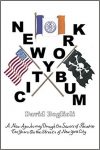 Publisher: David Boglioli (2016); Midway Books (2018)
Buy the book now at:

Amazon
Author's Website
Portrayals of bums and hobos in American culture are often comic (Red Skelton's "Freddie the Freeloader," carefree (Rodgers and Hart 1932 song, "Hallelujah, I'm a Bum,") or sociological ("Hobos, Hustlers, and Backsliders" by Teresa Gowan).
Not so in David Boglioli's first-person narrative of ten years spent on the streets in his aptly titled New York City Bum (Midway Books, 2017): in turn a memoir, guidebook, and first-person exploration of Dante's Inferno, 20th-century style.
Readers may want to listen to Lou Reed's classic street ode, "Walk on the Wild Side" to get into the mood for this book.
Boglioli started using crack cocaine in the mid-1980s. A highly successful chef (New York's Ritz Carlton Hotel, among others) from an affluent background, well educated, living the life in a luxurious apartment, he was dissatisfied with his well-appointed life. The "netherworld," as he calls it, fascinated him: "The street was the gutter, the very bottom of the barrel, always a trek through new territory where experience, caution and instinct are one's only guide… A long way from anyplace with places that might not even exist. Such was my challenge; my catharsis. My escape."
He becomes a bum by choice, with his crack habit as his mentor, releasing the person inside – the person trapped by his Middle-class American roots. He offers no apologies nor excuses for his downward spiral. Instead, he embraces his desire for more, always more of the life. Whether it is trashing several apartments, a methodical listing of all the places for him to score dope, his seemingly endless friendships with hookers that were more about using drugs together than sex, and the sheer paranoia interwoven with his lifestyle of choice, he sets out on his newly chosen life with the intimacy of a diary and the mindset of a reporter.
The greatest surprises of this book may be his portrayal of how he and his fellow bums find shelter and work in the often-squalid streets of Manhattan. He describes every conceivable way that people survive, from cardboard "houses" to charitable housing provided by churches and other institutions. It is possible to be a bum and yet find life's basics—provided, of course, that the self-destructive behavior on his part and at the hands of others that went with The Life didn't destroy these respites from the streets.
He also shows the many jobs that street people have access to, from fast food places to hotel services, putting enough cash in their collective pockets so they can score more dope. "One's entire waking existence, which was often incessant for days at a time, was directed towards getting high. Get the money, cop, get off." He shows how selling stuff, often his own as well as someone else's, provides a steady cash flow. At one point he makes money by renting out his apartment by the half-hour to crack users or whores. The jobs are there if you know how to find them.
With all the lengthy description of his life of choice, he is somewhat chaste while describing his personal cravings. He gives us all-too-brief glimpses of his coming out as a cross-dresser and some vague references to his pansexuality, but he gives us few glimpses of his intimate relationships. A typical peek-a-boo remark on the women in his life goes something like this: "Although my steady girlfriends were top of the line, I too enjoyed the scuzziest of skanks, depending on my current level of degeneracy. From five star to closed by order of the Board of Health."
Whether he is describing his many walkabouts in New York's streets or detailing the many ways that people ingest crack, he writes with an almost manic level of detail. He wants us to see his world precisely as he sees it. And while he mostly paints his life and his fellow bums with broad strokes, there are some downright frightening gems, such as the whores who are happy to have contracted AIDS so they can have a warm, safe place to stay and get off the hustle—for a while, that is.
There is no simple way to explain how his street life ends for him, other than the reality that he had lived it as much as he could. There is no magic friend, family member or therapist, only a bird, some hamsters and his discovery of "the kid" within him that takes him from his mean streets to the streets where most of his readers are only too happy to live.
A gritty, hard-knocking plunge into the gutters of New York City in Boglioli's self-inflicted journey to hell and his subsequent rise. A Dante's Inferno for the 21st century.
Highly recommended.