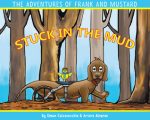 Publisher: Book Publishers Network; 1st edition (2016)
The Adventures of Frank and Mustard: Stuck in the Mud, written by Simon Calcavecchia and illustrated by Arturo Alvarez is a heartening picture book that tells the story of an afternoon spent between two friends, and what happens when one of them finds himself in need of help.
Frank, a differently-abled wiener dog with wheels for back legs, and Mustard, a small yellow bird, are out adventuring when they find a new trail they want to explore. Everything is going wonderfully until Frank literally gets stuck in the mud. He tries his best to get himself out, and then Mustard helps him as well, but to no avail. Frank seems hopelessly stuck. Undaunted, Mustard has an idea and rallies a group of new friends to help them. For a brief while, Frank despairs that he'll be stuck forever, but together they succeed in helping Frank pull himself out of the mud.
Illustrated with bold, colorful images and large text bubbles, The Adventures of Frank and Mustard is an excellent, encouraging book to read with children ages three to five. The story is all the more affirming given the author's own life and experiences. There are questions in the back to get young minds thinking and involved in the story. The action is easy to follow and the message is spot on: Sometimes we need a little help from our friends, and that's okay. And when you succeed, celebrate!
The Adventures of Frank and Mustard: Stuck in the Mud won First Place in the Chanticleer Awards category for Early Readers – Little Peeps – in 2016.