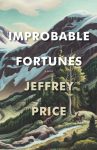 Publisher: Archer (2016); Archer - reprint edition (2018)
Buy the book now at:

Amazon
Buster McCaffery wants a family. An orphan from birth, Buster has spent his entire life searching for a forever family in the tiny Western town of Vanadium, population 367. After a tragic birth, Buster is handed from family to family until he reaches his maturity. His only true protector, Sheriff Shep Dudival, ensures Buster stays out of trouble, but when three of Buster's adopted fathers die in mysterious ways, the town quickly assumes the worst, and Buster becomes a social pariah.
No one trusts Buster until a wealthy New York businessman, Marvin Mallomar, reinvigorates the economy of Vanadium. Buster takes on hero status as foreman and friend of the would-be savior until a catastrophic mudslide wipes out half the town, and Buster is the suspected murderer of Mallomar. Now Buster must convince a jury he never killed anyone, much less his best friend.
Told as a flashback, Improbable Fortunes by Jeffrey Price is a wild romp! The prolific backstories, like the muskrat burrows that play a role in the novel, create a complex network of tunnels that twist and turn into an ironically stable tale of family, trust, and some flawed, albeit well-meaning, loyalty. This completely satirical read leaves the reader simultaneously laughing while feeling ashamed at finding humor in the pathetic lives of the characters.
From the Busy Bees, the local drug-dealing gang to the defunct uranium mine that gave the town its claim to fame, Lame Horse County will remind the reader of William Faulkner's Yoknapatawpha County or Mayberry gone awry. Buster McCaffrey, who looks like Howdy Doody and acts like the big-hearted–possible serial killing–buffoon, prays for those who take him in even though they deprive him of an education, use him for hard labor, attempt to molest him, and think he's a murderer.
Sheriff Shep Dudival (think Andy Griffith with a dark streak) is Buster's only real father-figure who touchingly gives Buster what is likely his first birthday gift in the form of a restored pickup truck. He's a shepherd in the truest sense, steering Buster's life as best he can. Jimmy Bayles Morgan, another important character, is an Old West cowboy with a strange secret and an undeniable affinity to Buster's suffering.
Buster's story meanders from a tile-making gangster family to pudgy Teutonic nudists to a rodeo star wife beater to a hen-pecked rancher with a maiden name to a cancer-riddled transvestite to a billionaire tycoon, and the reader will not be able to put it down. His devotion to the aptly named Destiny is touching and sad at the same time, and the petty caginess of his "families" only highlights Buster's goodness. The reader will be rooting for Buster, Shep, and Jimmy even while feeling guilty for it.
Price's novel is a bronc-busting ride that will have the reader holding on for the entire book. A clever mix of spaghetti Western and crime novel, Improbable Fortunes is a satirical treasure as "improbable" as the rebirth of the woe-begotten protagonist.
Improbable Fortunes by Jeffrey Price won First Place in the 2016 Laramie Awards!