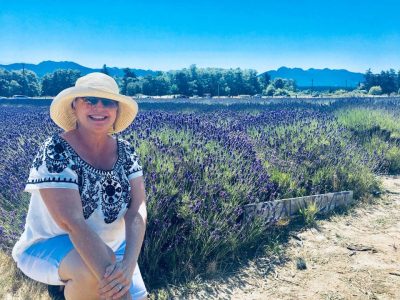 Once you decide to embark on the adventure of self-publishing, take some time to clearly articulate your purpose and vision.  Is your writing a hobby or are you wanting to commit to something broader? Remember, this is your experience and you can craft it in any way that feels just right for you.
If you decide to pursue going the distance, it is important that you accept the fact that there is a learning curve to self-publishing and to give yourself permission to feel occasionally overwhelmed and sometimes scrambled. Below are action steps and informational links to help us ink up our hands, Self-Publishers, and take on the task.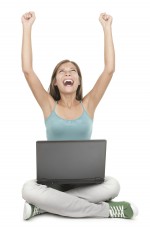 Establish a Budget: 
Some authors publish their work on a shoe-string budget doing their own editing, acquiring public domain images or designing their own cover designs, setting up their own files for printing, etc.  Others choose to spend more and hire a content and/or copy editor, professional cover artist, typesetting, etc. Depending on your piggy bank and your vision, you may spend anywhere from a few hundred to thousands of dollars.
Acquire Your ISBN(s) – INTERNATIONAL STANDARD BOOK NUMBER(s):
An ISBN is the most important identifier you can possibly give your book – that will assist book buyers worldwide to search and find your novel. The number (along with its barcode) will link to essential information, sales tracking, catalogs for bookstores, libraries, and online sellers. Each version of your book will need its own ISBN – in addition, if you are involved in a major rewrite, or you've just gotten your rights back from your publisher, you will need to acquire a new ISBN for your book. Take a deep breath, it's not that difficult.
Unless you are absolutely sure this will be your only book and you will never, ever revise it, I suggest buying multiple numbers. It is both convenient and economical to purchase ISBNs ( as a bundle (www.bowker.com ). There are providers out there who will offer to sell you ISBN numbers, but Bowker is the official source for the United States and worldwide, and well, why wouldn't you go to the source?
Work with a Skilled Editor:
Some self-publishing authors choose to work with friends, family or other authors who serve as their editor. People often assume that editing is only about correct punctuation and spelling. That is a myth sometimes used to rationalize why we don't need to spend money on a "professional" editor.  If you can jiggle some more coins from your publishing piggy bank, I believe it is of utmost importance to place your manuscript in well-seasoned, competent editorial hands. Nothing says "poor quality" and "I don't believe my work is relevant" louder than a poorly edited book. Network with other authors who have established successful relationships with their editors and secure recommendations.
Chanticleer Aside: Do you know that Chanticleer Reviews has a host of Industry-tested, skilled editors just ready and willing to work with you? Well, we do! We cover all aspects of editing from Manuscript Overviews, Proofreading, LineEditing, and Copyediting. Simply contact us for details, at: Editor@ChantiReviews.com
Cover Art:
What captures our attention when we are buying books? The cover! Good covers are the first point of a sale.  How many times have we read a book and as the story unfolds we go back, again and again, to look at the cover? Good cover art reflects the story. Again, network with your author friends and contacts to explore options. My sister, artist Kathleen Noble, (www.watercolorwonderpaintings.com) does the cover art for my books. Unless the artist is your sister or a talented, generous friend, working with a cover artist can cost more or less $300 – $600 to purchasing licenses for photography and artwork that can range in the thousands of dollars.
Kiffer Brown says (along with many queried independent booksellers) that your book's cover is the number one tool to selling your book. The content between the cover will sell your next book.

Here is a helpful link titled FIVE ESSENTIAL BOOK COVER ELEMENTS or Effective Book Covers Deconstructed. 
Here are some helpful links to explore for book covers:
SelfPubBookCovers This site walks you through their predesigned templates. You choose your picture array, your font, any quote you want on the cover. Once you settle on a design, the site promises the uploaded images that make up your design are yours and yours alone.
99Designs Simply put, upload what you are looking for (your genre, character, setting) and in a few days, you will be able to choose from 99 designs for your cover. This site allows voting, so that is an interesting way to find out which cover resonates best with your potential readers.
Fiverr On the go since 2010, Fiverr is a site that offers competitive designs from an array of artists for a reasonable price.
Choose Your Typesetter, Printer, & Distributor: 
There are many venues to choose from in getting these steps accomplished. I suggest working with a  book production professional to layout your book. Most of us do not have the skills to do the nitty-gritty needed to execute a book's final exterior, interior design, cover layout, typesetting, and formatting.  Once you have the final files then you can then upload them to book-selling platforms. If you want Indie Booksellers to sell your books in their brick-and-mortar stores, then you should consider uploading your books to IngramSpark (www.ingramspark.com) for print-on-demand and e-book publishing. Distribution is through Lightning Source, www.ingramcontent.com. CreateSpace is another on-demand publishing service that is owned by Amazon (www.createspace.com).  There are many options which you can view on the web. *You may wish t0 utilize artists and designers on 99 Designs and Fiverr to accomplish the typesetting for print and ebook. 
Copyright, Library of Congress:
A very informative site is www.loc.gov.  Don't let the amount of information overwhelm you.  Just take your time and peruse as you learn.  You can call their helpline and very kind people will assist you.
Protect your work by registering your work at the Writers Guild of America (WGA) Here is why you should:  "…The registration process places preventative measures against plagiarism or unauthorized use of an author's material. While someone else may have the same storyline or idea in his or her material, your evidence lies in your presentation of your work. Registering your work does not disallow others from having a similar storyline or theme. Rather, registering your work would potentially discourage others from using your work without your permission."
Business License & Dept. of Revenue:
I formed an LLC (Limited Liability Company), Noble Press, and submit quarterly tax reports. I have yet to pay a penny.  Guess you know what that means!  But now that my books have been out there a few years and selling, I am beginning to make money after expenses.  Not much and I certainly won't quit my day job, but enough to say "Yahoo!"  These are a few helpful links: www.sba.gov, and www.irs.gov.  There are many sites online offering to take your money to set up your business.  I strongly urge you to do this yourself as it is important as a self-publisher and business owner to be educated on every aspect of setting-up, running and maintaining your self-publishing business. Remember, the business is a separate entity from your writing.  I find writing much more enjoyable but the business aspect is a necessity for meeting my goals and is proving rewarding in itself. Be patient with yourself as you learn, asking many questions.
Final Thoughts: 
In conjunction with finishing your final edits, allow four to six months to complete all the business pieces. I say, again, that it is important to be organized and to track where you are in each step of every process. In addition to my online and hard files, I keep a writing and publishing journal and make dated notes all along the journey.  It has helped me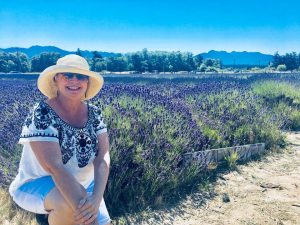 time and time again to look back and see when what occurred as well as my thoughts.
Make a weekly and monthly schedule. For instance, two mornings a week tend to the business aspects, and three days a week focus on your editing and writing. You will change it up along the way as you figure out what works best for you but, if you can begin in an organized, systematic fashion, you will feel productive and not stymied by too much to do and losing your way. Well, you may still lose your way from time to time but you will never be lost! You will have a vision, a well thought out plan, and be ready to go! Next month we will discuss marketing and promotion.
Remember, "Keep falling in love with the potential of what you are doing!"
– Gail Noble-Sanderson
---
Gail Noble-Sanderson is the author of two works of historical fiction, both of which are self-published under her own Noble Press.  The Lavender House in Meuse is an emotional, intriguing, and sensitive account of the crises of World War I and one woman's journey towards recovery and growth.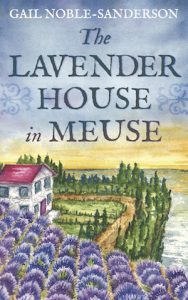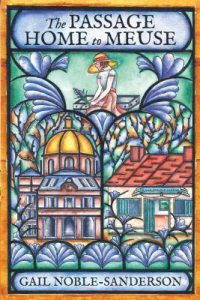 Her second novel, The Passage Home to Meuse won 1st Place in the 2017 Chatelaine Awards, the Chanticleer International Book Awards (CIBA) for romantic fiction.
Both books are available through Amazon and Village Books.
She invites you to visit her website  http://gailnoblesanderson.com/ and to follow her on social media.