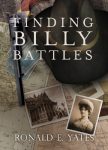 Publisher: California Times Publishing; 1 edition (2016)
Buy the book now at:

Amazon
Author's Website
The best way to experience history is to ride along with someone who lived it. Author Ronald E. Yates allows us to do just that by cleverly inserting a story within a story in his spectacularly captivating novel, Finding Billy Battles.
The title character's great-grandson, Ted Sayles, greets the reader in the novel's prologue and explains how he came to be in possession of journals, letters, recordings, and other autobiographical materials of his great-grandfather. William Raglan Fitzroy Battles lived an entire century, from 1860 to 1960, and it was his wish that Ted "…help me set the record straight about some things I did, people I met, and some events I witnessed."
And what a tale it is! One chock full of the peril, transgression, and redemption noted in the subtitle. Ted makes the astute choice to allow Billy to address the reader directly, thereby giving an immediacy and intimacy to this account of his childhood, young adult years, and early manhood. Hitch up your saddle because you are in for the ride of your life!
Billy also referred to as "William," was born in Ford County, Kansas in 1860. His parents had been part of a wagon train heading to the western territories. Billy's father fought for the Union during the Civil War and lost his life on the battlefield. His mother, an ardent abolitionist with a flair for dressmaking, raised Billy in Lawrence, Kansas, and insisted he attend the new university for a couple years when he came of age. Sensing her son's restlessness, she allows him to travel to Dodge City, that "notoriously wild cow town" to work on the Dodge City Union newspaper for a summer. It's a significant experience and William will remain a journalist his entire life, learning the business from the bottom up. His journalist's eye will allow him to observe and assess what others might miss entirely. The same is undoubtedly true for Ronald E. Yates, an exceedingly talented journalist. The events in this book are carefully considered from every possible angle and relayed with admirable objectivity.
Journalism won't be William's entire life, however, because of key people and pivotal events that will shape his years. He interacts with noted figures of the time, including the taciturn yet quietly charismatic Wyatt Earp, the gregarious showman, and owner of the Crystal Palace Saloon, Bat Masterson, and that famous dentist, Doc Holliday, whose quick, sardonic wit was far stronger than his body, which was slowly surrendering to consumption. Such company is enough to make a young man forget ever returning to conventional life in Lawrence and continued studies at the University of Kansas.
While William won't be a part of the famous battle at the OK Corral (which, he tells us, actually took place in a vacant lot behind the Corral), he has his own shoot-out, one that will plague him almost his entire life. While visiting his family's old homestead, he and his companions discover squatters, the Bledsoe clan, on the property. One thing leads to another and events reach a fevered pitch with kidnappings, escapes, and, finally, William inadvertently shooting someone while defending himself from others. It shakes the young man to his core. Because of his connections with Earp and other lawmen, his version of events are believed, but that's never the end of the story in the Wild West.
Vengeance has an arm longer than the law, and it will reach for William again and again. As a result, his courtship and marriage to Mallie McNab, a banker's daughter in Denver, are impacted, as are his relations with his mother and young daughter. Can William weather it all or will he flee to foreign lands and encounter adventures of a different kind? At a dark point, William notes, "…my life descended wildly into a morass of adversity and peril."  It's a statement worthy of Charles Dickens. Our protagonist, once indeed a young man with great expectations, now must decide what he must do to make life worth living. Thank heavens there are two more books in this series, The Improbable Journeys of Billy Battles and The Lost Years of Billy Battles. We must know how it all turns out, and William has more than six decades yet to live.
With precise and fully realized characterizations, Ronald Yates will draw readers in immediately as they become aware of the will and grit it took to carve out a life on the frontier, and the courage necessary to live in a place like Tombstone, amongst people ready to settle any disagreement with a gunfight. Not all scenes take place in boomtowns and saloons, however.  We're also treated to alluring details of lovely rooming houses and majestic hotels including the Grand Hotel and the Tremont House Hotel.
The reader gets an almost literal taste of savory meals served in both private homes and the finest restaurants of the day. Most fun are the scenes that take place at the Columbian Exposition in Chicago in 1893 where William and his wife tour fascinating exhibits at Marshall Field's Wholesale Store and learn that the Palmer House Hotel is now lighting its rooms with electricity! It's all marvelous and so artfully described that readers may envy the characters. It's the rare and talented author who can achieve this, and it's not hard to imagine Billy, Bat Masterson, Doc Holliday, and the Earp brothers tipping their hats to Ronald E. Yates.
Highly recommended.
The second book in the series, The Improbable Journeys of Billy Battles, won 1st Place in the 2016 Somerset Awards.