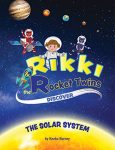 Publisher: Tickle+Tickle Publishing; 1 edition (2016)
Buy the book now at:

Amazon
Author's Website
Rikki and the Rocket Twins: Discovering the Solar System is a fun exploration of space for children ages three to eight. Written by Kneko Burney and with graphic illustrations by Adriana Patricia De La Roche and Zoe Williams Sticka, this full-color picture book follows the dream adventures of Rikki and her new friends the rocket twins as they explore the entire solar system.
Rikki is a naturally curious girl who wonders about all kinds of things. When the story begins, she is busy imagining what may be beyond the clouds and as she gets ready for bed that evening, Rikki's mom gives her two of her own childhood toys—Tikki and Timbo. Rikki quickly falls asleep and thus begins her exploration of the solar system, with Tikki and Timbo by her side. Together the three of them learn about the sun as well as each of the planets, all the way from Mercury to the dwarf planets Pluto and Eris.
The sun and the planets all get their own two-page spread with educational and concise information young children will be sure to understand. Sizes, temperatures, and other facts about the planets are all compared to things on earth. There are questions throughout, such as, "Would you like to live on Mars one day?" that will keep young listeners actively involved in the story. One excellent strength of this book is that it can be catered to the age/attention span of the child. Just the main text can be read to little ones with short attention spans, or more detailed information can be given to older children with the text boxes included in the graphics.
Rikki and the Rocket Twins is done with full-page, computer-generated color illustrations reminiscent of current popular children's television shows. This short, educational picture book is entirely up to date in its information and is sure to appeal to today's families. Rikki is a young, multiracial girl, whose mom encourages her to learn and explore. This is sure to be an excellent bedtime book as Rikki herself is getting ready for bed. Young listeners may even be more eager to go to sleep to begin their own adventures. One can dream, right?
Kneko Burney's book won 1st Place in the 2016 LITTLE PEEPS Awards!